Many providers, especially in the EAM space avoid this question. "Call for a quote!" they say. We traditionally try to be as upfront as possible. You can check out our Dynaway EAM pricing page for our F&O here and pricing for EAM for Business Central.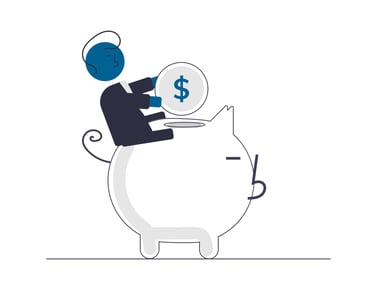 However, what we would like to address in this article is:
What EAM solutions are available on the market
How much EAM providers are charging
What are the hidden costs behind the purchase of EAM system (implementation and integration costs)
We compare the information we found with our knowledge from almost 20 years on the market.
We are sure you will find it useful!
How much does EAM/CMMS cost?
There are lots of providers out there. There's us at Dynaway, but there are also many others such as Fiix, Limble, Upkeep, eMaint, AssetCloud, Infraspeak, Asset Panda, SAP, IBM Maximo, and many others.
And we all offer many different services, models, subscriptions, and features.
It depends on what your organization needs from an EAM or CMMS. If you're a small 20 employee producer of canned beans, your software needs won't be as significant as a multi-million dollar, 1000 employee chemical plant.
You will have a lot of software features to choose from. And there's a wide variety on offer. But broadly speaking, we all center our software on the needs of modern maintenance management:
Pricing Modules
Nowadays, organizations aren't always keen to purchase software for a one-off fee. With the advent of digital connectivity, the cloud, and the software as a service (SaaS) model, there are several pricing models commonly available:
Monthly user subscriptions:
Organizations only pay for the number of employees that use the EAM/CMMS. It is quite common in SaaS models where software is cloud-based, flexible, and mobile solutions are required. It's an excellent option for smaller organizations with limited users.
These plans typically have defined user levels such as administrator, manager, planner, technician, or operator, with each level having access to different features. For example, an operator may only need to raise work requests, but a planner needs access to work requests and planning features.
This approach will use a tiered pricing strategy where you pay increasing prices for increasing levels of features: starter, professional, business, and enterprise.
Monthly subscription plans:
These also use the tiered pricing strategy to access different feature levels. However, these plans allow a defined maximum number of users and organizations. Most providers will let you upgrade the number of users for a small increase in the fee. Or, in some instances - an unlimited number of users if you are a bigger organization.
This type of plan most often benefits larger organizations with multiple plants or factories and a larger workforce than the norm.
One time perpetual licenses:
Popular with larger, global organizations who have sufficient IT resources and infrastructure. Though some providers also offer cloud-based perpetual licenses, the EAM/CMMS would typically be installed on and run from the organization's own server and is customizable. This option allows for an unlimited number of users and workplaces. This license fee is always higher than a subscription fee and usually doesn't include software upgrades.
So… 'what are the costs?' we hear you ask impatiently.
Let's have an objective look at the costs (based on annual payments) of a couple of typical CMMS/EAM providers.
Market Analysis: Prices of CMMS/EAMs
UpKeep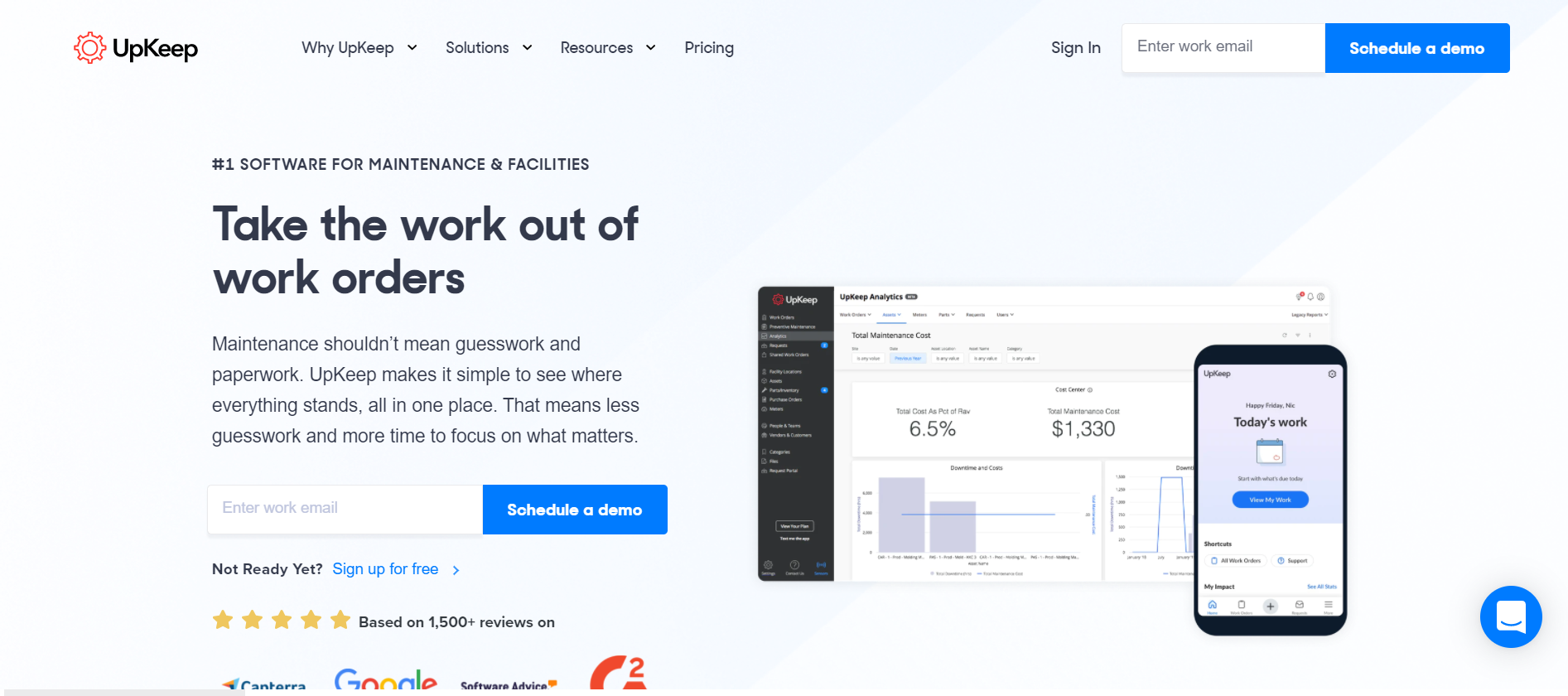 https://www.onupkeep.com/
Upkeep has made their plans available in 4 tiers. There is a free plan called Trial for small businesses that want to manage work orders and track assets. It includes Work Order Management, Asset management, and Checklist Items & Templates. The next plan costs $35 per month per user and additionally has Preventive Maintenance. Next up are Professional ($60) and Business Plus ($100) plans that offer much more advanced functionality than the previous two plans. For example, Advanced Reporting and Analytics, Service Request Portal, Time and Cost Tracking, and more.
It seems like UpKeep is covering all the main functionalities for a CMMS system in the four plans offered. However, for customers who have more specific needs, there are additional features and functionality available.
For example, it might make sense to get the Custom Reporting Add-on for medium and large businesses, as it is much harder for big organizations to manage and analyze their data. Another add-on is a Multi-Site Module if the company has facilities across different locations. And last but not least, a lot of Asset Intensive industries are looking to integrate their current ERP system with their EAM system to have a seamless data flow. UpKeep offers SAP integration to synchronize communication between UpKeep and SAP and to have accurate parts and inventory counts.
Fiix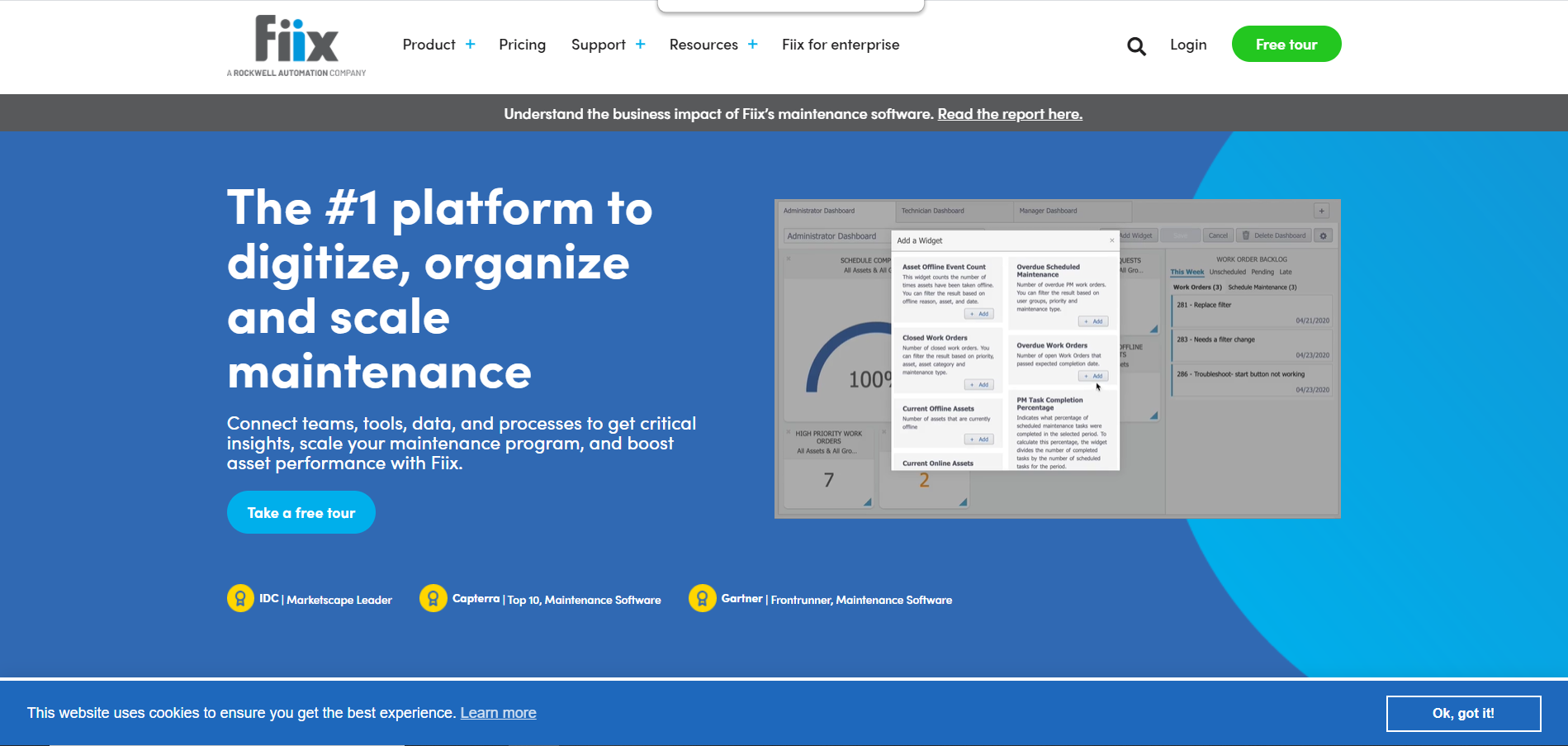 www.fiixsoftware.com
This is another provider of CMMS/EAM cloud-based software. Fiix also has several plans to choose from, allowing organizations to tailor their approach to maintenance management.
First up is the Free plan (yes, you heard it right again. Zero dollars a month!). For up to 3 users, you get access to the desktop software and mobile app. Standard features include service requests, up to 25 active PMs, and time and event-based triggers. And email support. Next, they have Basic, which is $40 per user/month. As well as all the standard unlimited features, you get downtime tracking, spare part levels, reports and schedules, and phone support on top.
Stepping up, they have the Professional level at $60 per user/month. After all the standard features, you get custom reports, AI analytics, and across multiple sites. Lastly is the Enterprise version. This has custom pricing per user/month (available on request) but has every feature available. This includes customization, API integration, and extra security features.
Oracle EAM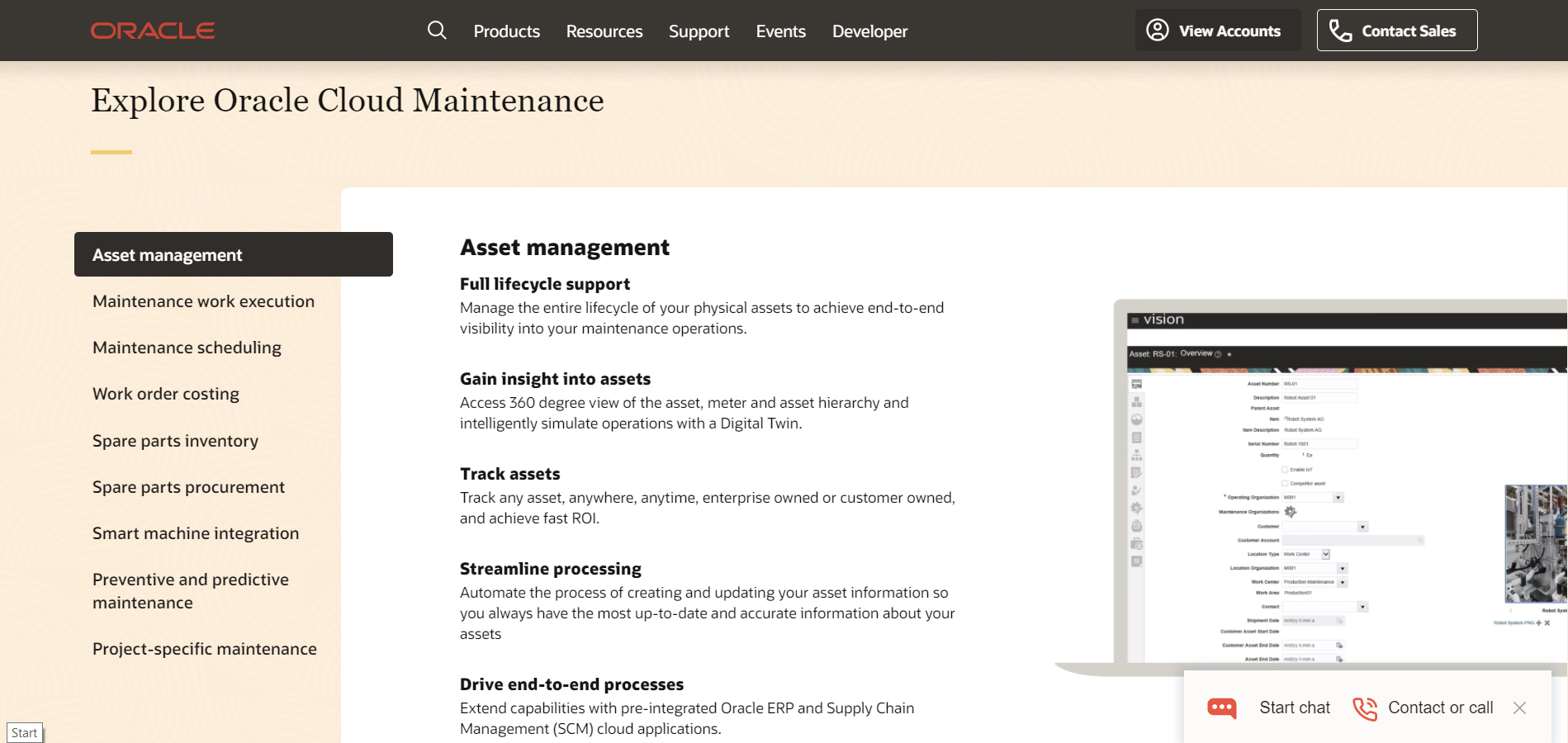 https://www.oracle.com/scm/maintenance/
Supports all types of assets across multiple industries, ability to attach meters to an asset for tracking, analytics feature for reporting maintenance costs and other metrics, however, it is definitely not for small business as it requires intensive training and internal IT support.
Oracle eAM's perpetual license costs $4,595 for a minimum of 10 users. Any software updates and support costs approximately $1,000. Oracle sells a self-service work request licensing option for $575 for a minimum of 10 users.
IBM Maximo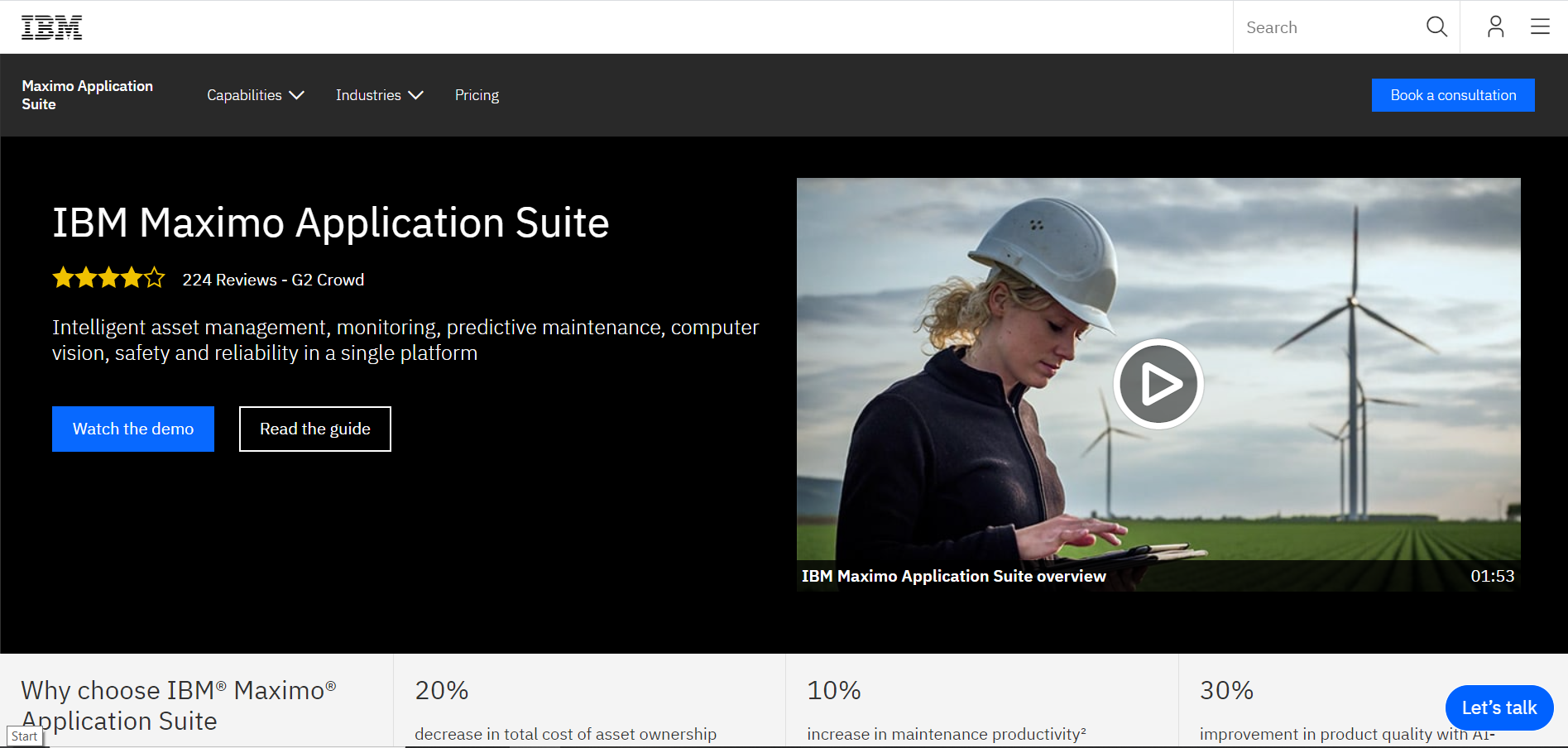 www.ibm.com/products/maximo
This traditional provider's cloud-based product Maximo SaaS starts at $164 per user/month and offers standard functionality (asset lists, service history, KPIs, work orders, POs), mobile access, machine learning, business intelligence, and API integrations. It also offers Maximo On-Premise and Maximo SaaS Dedicated, which have specific add-ons for specific industries – although no pricing structure is publicly available for these offerings. Another established and traditional provider – SAP – also chooses not to provide a price list for its EAM software or implementation.
Dynaway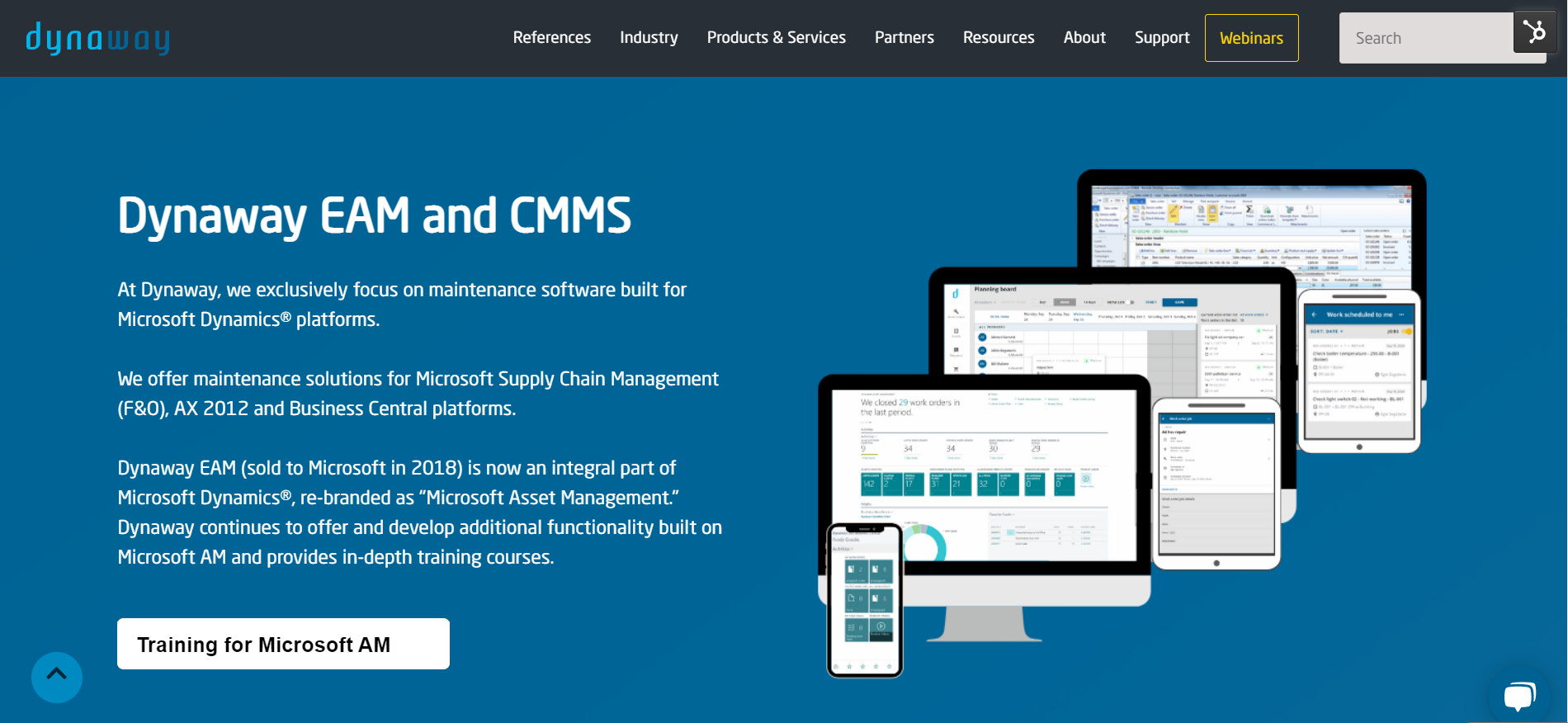 dynaway.com
That's us.
If your organization uses or is considering using a Microsoft ERP (like Microsoft Dynamics 365 Business Central, Finance and Supply Chain/Finance and Operations, or AX 2012), we might be the best choice for you.
Our solutions are fully integrated into those ERPs and they will save you a lot of money, time, and hassle on integrating other maintenance systems with your internal systems.
If you want to go free, you can try our EAM for Business Central. This gives you asset trees, work orders, document uploads and storage, knowledge base, and email support.
On the other hand, Dynaway EAM for Microsoft Dynamics Finance & Operations has a different pricing approach. As Finance & Operations ERP by Microsoft is more complex and focused on bigger organizations, EAM system integration, and customer requirements are more extensive.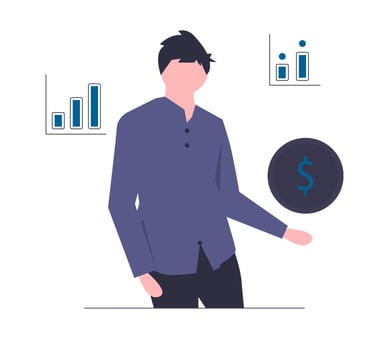 Pricing for this product is based on different modules that your maintenance organization requires (You can check them out here in our unique EAM pricing calculator).
From our own experience, we know that this Dynaway EAM solution for Microsoft Dynamics AX / F&O is usually a perfect match for Manufacturing, Food & Beverage, Energy & Natural Resource companies that are looking for seamless integration into their ERP and maintenance work.
How much does it cost to implement EAM?
Again, we hate to say it… but it depends.
These costs depend on the software vendor and the way it is deployed - whether it is cloud-based or on the premises. The expenses will generally consist of hardware, software installs, data migration from legacy systems, integration with 3rd party software such as ERPs or IIoT field devices, and training requirements.
If you want to connect your new EAM/CMMS system, you could use an EAM or CMMS system directly built into your ERP. Many companies claim to have great integrations, but this is usually easier said than done.
Dynaway
We can talk about our experience and what you can expect when you decided to implement one of our EAMs. When it comes to a standard implementation project for the Microsoft Asset Management module for Finance and Operations for 1 site, and an implementation period of 4-6 months, the estimated costs are US$67.000. The implementation project includes:
Project initiation and planning.

Technical assistance.

3 on-site workshops including preparation, hand-outs, and follow-up.

4 days of Education and setup.

4 days of Maintenance process validation.

4 days Conference room pilot.

Online sessions and ongoing implementation support.

Go-live support.

Project Delivery.
Whereas implementing Dynaway EAM for Business Central doesn't have any additional cost. Because of Assisted Setup functionality in Microsoft Dynamics 365 Business Central, customers can set up the system themselves and start using it within hours.
UpKeep
You can set up UpKeep CMMS system yourself using their support articles and video guides, however, they also offer a Professional Implementation service for businesses who are looking to save time on account implementation with professional set-up services. This service includes:
Data mapping

Data cleaning and formatting

Migration of asset records, inventory, work orders, and more into UpKeep
As the implementation is different based on the company's needs, size, and records, the service price is not fixed and you would need to contact the sales team to get a quote.
As you can see, there are many variables when it comes to costing a new EAM/CMMS. Most of the variability depends on the size, type, and maintenance requirements of your specific organization. This article has shown you that modern EAM/CMMS providers can at least provide a tiered pricing structure that gives you feature and user-driven flexible options that your organization can change on demand.