It's probably not the first time you hear that in order to achieve great results, you have to have a specific objective and metrics to measure if you have achieved your goal.
For maintenance managers, measuring KPI's has become much easier with using EAM software which allows to create custom dashboards based on the data which has been gathered.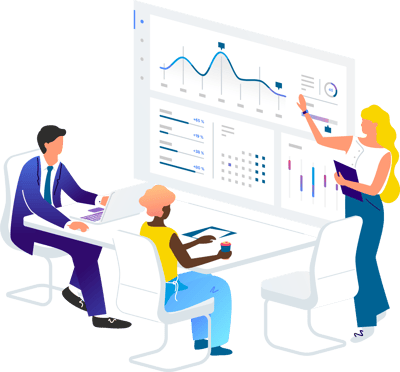 So if it is that easy, why maintenance departments still find it challenging sometimes? The answer is… data. Surrounded by too much information, you can get lost and start looking into data and numbers that are actually not as important as you might have thought. Below you will find 5 Key Performance Indicators (KPI's) for Maintenance to follow in order to reduce Maintenance Costs and Increase Productivity!
Each organization has different objectives when it comes to maintenance, however they all have same focus areas:
Efficiency & Downtime

Maintenance Budgets and costs

Asset Lifecycle & Performance

Maintenance Response Time

Work Order Management
Which KPI's to follow?
1. Downtime
Downtime is incredibly costly for any company which has assets. According to Vanson Bourne research, Average downtime costs 240.000 US dollars per hour according to decision makers in Field service and Service management.
70% of the companies' lack awareness of which assets require maintenance which leads to unpredictable failures and costly downtime. Having a good Maintenance Strategy in place, can reduce downtime by more than 30%!
Measuring Downtime as a KPI, can help Maintenance Department to analyze and see how successfully they have implemented and adapted maintenance strategies and can help to make decisions based on that.
How to calculate downtime?
Downtime = hours of downtime / total period measured * 100
However, more important to understand here how Downtime affects your costs! These is a simple calculation to measure it:
Take a certain period of time, e.g. 1 hour. Consider how many parts or products are produced during every hour and determine how much money each product can potentially make. Then, determine how long downtime might take (or has taken in the past).

Using this formula,if we make profit of $30.00 per product (unit), and we produce abut 30 products per hour, that means each hour is worth $900. In a scenario where you experience 3 hours of downtime, you loose $2,700.00 in just those few hours!
2. Inventory and maintenance budget
Maintenance department is often asked to forecast budget for maintenance operations and activities. Usually it is pretty challenging, especially due to unplanned downtime and poor maintenance data.
In order to accurately forecast, accurate and easily accessible data is required. Having EAM/CMMS solution helps to document maintenance processes, but what about data accuracy itself? If your EAM is not integrated directly to ERP, maintenance departments might have inaccurate data and make error prone decisions and forecasts.
With integrated CMMS system into ERP, data flows freely from mobile inventory management system to ERP system regarding spare part stock levels. Being aware of spare part levels is highly important for maintenance professionals. Having information about inventory at their fingertips can help to improve maintenance budget forecast as well as control costs.
In Dynaway Enterprise Asset Management, you can calculate various Key Performance Indicators (KPIs) for Assets (objects) and object types. KPIs are used to get an overview of performance on objects.
With Mobile EAM on mobile device, maintenance workers can consume and register spare parts needed for the work order to be completed. Then, purchasing department can see in real time how many specific spare parts are left. You can even set push notifications when parts reach specific stock level to notify purchase department about low stock level.
3. Asset lifecycle
The life of an asset is counted from when it is first established, through its acquisition, operation and any maintenance or upgrading, to its disposal. Lifecycle describes the evolution of an asset in terms of the increase and decrease in its use and value from inception to retirement.
Another term is useful life of an asset which refers to the number of years an asset remains in service and provides cost-effective revenue generation. However, it can be challenging to predict total asset lifetime.
With EAM software, maintenance managers can get a better insight across all maintenance processes and operations. As one of the examples, Dynaway EAM has a functionality of building asset hierarchy tree which represents locations and assets. In Dynaway Enterprise Asset Management solution, you can calculate various Key Performance Indicators (KPIs) for objects and object types.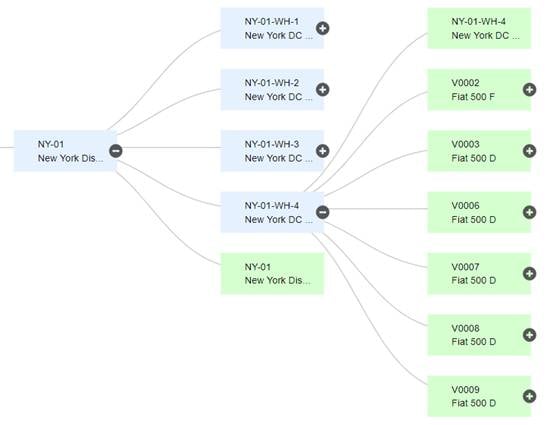 Functional location hierarchy is based on individual company's requirements for maintaining internal equipment or servicing customer equipment.
This allows to easily view the location of every asset and add new equipment or locations. It helps maintenance department to monitor failure trends and better schedule preventive maintenance based on locations or equipment historical data. As a result, maintenance can create benchmarks in order to extend equipment lifetime.
4. Maintenance Response Time
Maintenance Response Time refers to a time measure from when the work order request is opened until the start of the actual work.
For example, if you have troubles internally regarding response time, major downtime issues can occur if the work wasn't started at the right time. Maintenance department can easily reflect on KPI's like response time by using EAM solution, which collects accurate data and present it in an easy to understand and analyze way. The EAM/CMMS helps to identify how quickly and efficiently mechanics are able to respond to work order requests.
This helps management to filter out cost ineffective departments or assets as well as make data driven decisions on how to improve response processes and what causes problems in a first place.
5. Preventive vs. Reactive
Reactive maintenance also often referred to breakdown maintenance means that equipment repairs are done after the equipment failure.
While reactive maintenance might make sense from the first sight (repairing only when failures occur), it costs more in the long run: unexpected downtime in the middle of the production can lead to damaged goods, late deliveries, losing a customer, consequently impact revenue.
When you plan your maintenance activities you have time to analyze, consider and take actions based on previous data and production schedule. With reactive approach, failures occur unexpectedly, workers run around looking for the correct safety manuals and documentations as well as spare parts and tools.
As of KPI, you should focus to lower the % of reactive maintenance work orders as much as possible. However, it is always important to set realistic goals... If you do not have any preventive maintenance activities today, it is probably not a good idea to set a goal of 0 reactive work orders in a month.
Clear Goals and Objectives
From our experience, it is always good to use SMART goals approach when it comes to maintenance!
SMART is an acronym that stands for Specific, Measurable, Achievable, Relevant, and Timely and can be used to guide your goal setting. By setting goals for your organization or department, you are providing a target to aim for as well as reflect on your performance and achievements.
To make sure your objectives are clear and reachable, each one should be:
Specific: Every goal should be well defined, clear, and unambiguous.
Measurable: With specific criteria that measure your progress towards the accomplishment of the goal.

Each objective

has

different

standards

for

evaluating

progress

against

the

goal.

Achievable: Attainable and not impossible to achieve.
Relevant: Within reach, realistic, and relevant to your

organization

purpose.

It

can

be achieved

within

the

time set

and

with

the

resources

available.

Timely: With a clearly defined timeline, including a starting date and a target date. The purpose is to create urgency.

Here are some examples of SMART maintenance KPIs:
Reduce unplanned downtime by 50% over the year of 2020.
Increase preventive maintenance work orders by 20% of total jobs.
Reduce time required for safety and maintenance inspection by 50% over the next 6 months.
Reduce Reactive work orders down by 60% over the next 8 months.
Be prepared to ask yourself and others many questions when it comes to writing SMART goals. The responses will help to fine-tune your strategy so that the goals can be achieved. It's important to pursue your goals with a positive attitude even though you should be as realistic as possible. At the end of the day, you want to not only dream about your objectives but achieve it!
Read next: