You've probably heard the acronym ESG with increasing frequency in recent times.
And if you are already in an asset-intensive industry, you probably know that it means Environmental, Social and Governance. Well, we're here to tell you how Dynaway's EAM software and its tools can support your ESG framework and help achieve your ESG strategy and goals.
It does it by optimizing your assets, incorporating regulations, and providing visibility. But before EAM, let's go a little deeper into ESG.
KEY TAKEAWAYS
The ESG framework has three pillars: E (environment), S (social), and G (governance). They assess how your organization incorporates environmental, social, and governance practices into key areas such as maintenance and operations.


Dynaway EAM supports ESG, as it optimizes asset performance throughout its lifecycle, reducing failures, resource consumption, and costs while positively impacting the environment and safety. Secondly, it aids governance and regulation by facilitating compliance processes and tracking environmental data. Lastly, it provides visibility through centralized data management and automated alerts for efficient decision-making related to ESG goals.
Environmental, Social and Governance is a framework that covers your organization's business practices and performance and how it affects the environment and society, as well as the integrity and transparency of its governance.
The three pillars of the ESG framework are the three areas – E, S and G - that your organization must report on. It measures how your organization integrates environmental, social, and governance practices into key areas such as maintenance and operations, as well as your business model and its sustainability and ethics.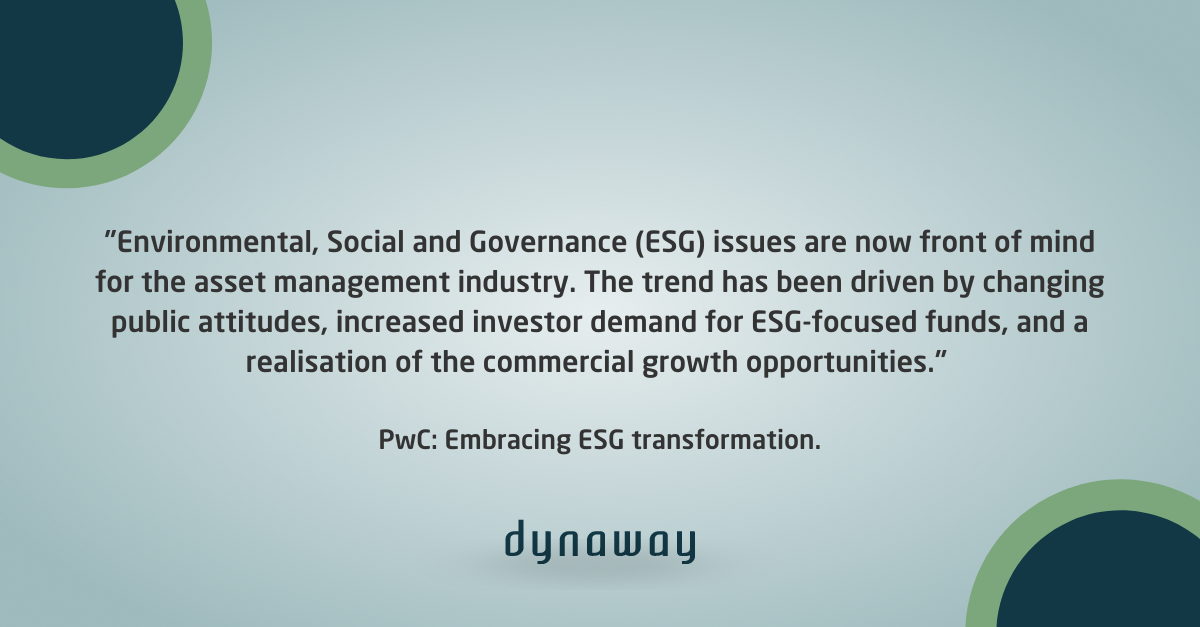 Let's look at the three pillars in turn:
Environmental
How can your organization minimize its impact on the environment? This covers the business's products, the supply chain and maintenance and operations. ESG drives the business to consider more sustainable, ethical practices.
Social
How does your organization impact wider society and workplace culture? Organizations can positively (or negatively) influence wider society, providing equal opportunities for employees, supply chain partners, and surrounding communities.
Governance
The processes of decision-making, reporting, and how to run a business. Governance also focuses on ethics, behaviors, and transparency with stakeholders about its business activities.
But where does Dynaway's EAM system fit in?
You can find the answer by watching our exclusive webinar, where our Managing Director, Ulrich Kærgaard and Dynaway Partner CoGo, represented by Andy Pruett, discuss real-life examples of how EAM has a direct positive impact on ESG performance.
The 3 Ways EAM Supports ESG
Dynaway's EAM software provides the right tools for optimizing and managing asset performance by monitoring the sustainability of assets, adhering to regulations, and providing visibility for decision-making on ESG goals and the compliance framework.
Let's get a little more granular on those three areas:
Optimization
EAM software facilitates the optimization of your assets. Think about their purchase, installation, operation, and maintenance (and disposal). All through the asset lifecycle, they are continuously optimized: operational standards, procedures, maintenance strategies and plans, root cause analyses, upgrades, and improvements.
But how does this help you? How does it relate to ESG?
Optimized assets will have fewer failures. And this means you will use fewer spare parts, fewer human resources, and have a lower total cost of ownership. By having the right maintenance strategy, assets will have fewer leaks (lubricant, gas, compressed air), consume less energy (aligned and balanced fans and pumps), and require less intervention. This is all positive for the environment. And safety permits – managed inside the EAM – ensure workplace health and safety.
This is a key aspect of the social pillar.
Regulation
Dynaway's EAM software can aid governance and regulation in your manufacturing enterprise. Think about how a company monitors itself in terms of internal controls and maintaining compliance with regulations and corporate policies.
A comprehensively-implemented EAM system helps you facilitate and record many regulatory processes:
Safety permits, review, and approval procedures
Risk assessments
Equipment electrical safety compliance tests
Regulated skills register (boiler inspectors, gas inspectors, electricians)
Audits/inspections
Environmental data tracking/reporting
As an example for the last point, the EAM has automated alerts and emails when boundaries are crossed, and it also has document management for processes and workflows and task management functionality.
Maintenance checklists can be stored in the EAM for monitoring assets with regard to environmental regulations: monitoring sumps for wastewater compliance, boiler inspections, fire water pump inspections, and so on.
And we mentioned that Dynaway's' EAM software also provides visibility to ESG.
Visibility
No matter what business or sector you are in, you want visibility into your operations and maintenance, right?
This is especially pertinent if you are driving your organization towards the achievement of ESG strategy and goals.
Dynaway's EAM software is a great place to store the information/data required from ESG. It is a standalone repository for data collection and storage. But beyond this, it provides excellent visibility of data, information, and trends in its dashboards that allow management to have higher confidence in their asset management and ESG-related decisions.
The EAM's centralized data management system means interacting with it and gaining quick visibility is a friction-free process.
Some tools, for example, for tracking and managing data, are built-in counters and meters which can be linked to sensors at the asset: these may be collecting data on effluent discharges, wastewater, or water usage and if either rises above preset or agreed limits, then a decision-maker (e.g., an engineer or maintenance manager) gets an automated alert to respond to the problem as soon as possible – using the work order system.
Get in the Driving Seat
And so, it's clear that ESG goals and objectives are of high importance to manufacturers, enterprises, employees, shareholders, and the public.
And it matters to you.
Assets and asset management demand optimization, regulation, and visibility to be sustainable and comply with the ESG pillars and framework.
Put yourself in the driving seat today: ensure you have modern, scalable enterprise asset management software as a foundation and growth tool for achieving your organizational ESG strategy.
Contact us at Dynaway to start moving forward.