The world of manufacturing is a difficult place right now. Spiraling food, commodity, and energy prices, stricter regulations, constantly evolving customer preferences, new technologies, and a scarcity of people and skills. They are all crucial challenges for the food and beverage (F & B) industry.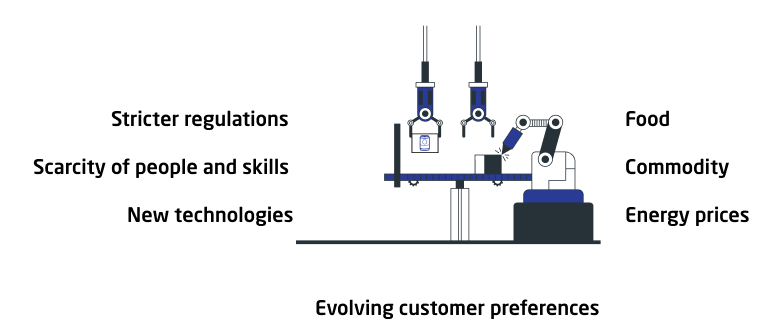 It's a challenge for all.
F & B manufacturers must front up and face these challenges head-on or else be left behind in what is already a high-pressure, competitive market sector. Here are the top 5 crucial challenges right now that must be overcome by F & B manufacturers:
1. Human resources skills shortage

The skills shortage in the manufacturing industry is a worldwide phenomenon affecting food and beverage and every other sector. It had already been building for some time prior to the COVID-19 pandemic, but the worldwide lockdown has only exacerbated the problem. The 'Great Resignation' is the label given to the trend behind the large number of people who left their roles post-pandemic.
"Left unabated, the manufacturing skills gap, which is now anticipated t o leave 2.1 million jobs unfilled by 2030, could cost the U.S. economy as much as $1 trillion".''

Deloitte Study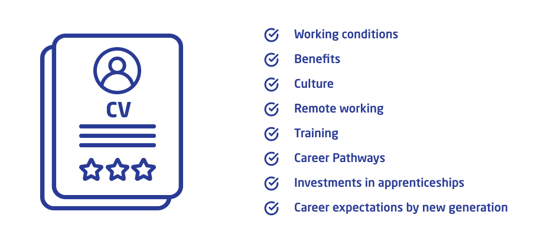 As well as a technical skills shortage of technicians and engineers, there is now a shortage of people who want to work as operators and support staff. The key challenge for the F & B industry is how to attract and retain people. The industry must get to the root causes of why so many want to leave the industry or not enter it. Considerations have to be around working conditions, benefits, culture, remote working (difficult in the industry), training, career pathways, investment in apprenticeships, and what the new generation of people are seeking in a career.
2. Changing customer demands
Given such easy access to information on the internet and the 24/7 news culture that came with the dawn of the always-connected age, it's no wonder that modern consumers are more switched on about the impact of their choices.

Compared to their predecessors, the modern F & B consumer is increasingly concerned with sustainability, climate impact, food waste, and their personal health. F&B manufacturers realize now that they are being scrutinized. People read the labels. People take notice of things that go against their beliefs. And if they do, they often find another brand to purchase from.
The modern consumer wants their products to be made sustainably: recyclable and recycled packaging and products made with renewable energy sources that have less impact on climate change. And the topic of food waste is crucial right now as the world is faced with food shortages – particularly in the developing world. Healthy food – lower in salt, sugar, and fat - is a high priority for many as a healthy lifestyle comes higher on the agenda in the modern era.
All this comes with a cost to the F & B manufacturer, but if they want to retain customers and future generations, they have to be willing to listen.
3. Digital transformation
For F & B manufacturers, digital transformation is already here. Though the stragglers need to get on train or risk being left behind and losing out on the asset management efficiency and excellence gains. Digital transformation is applying modern technology to maximize revenue, quality, and flexibility, and lower business costs. In maintenance, for example, this could mean the introduction of mobile devices for work orders or access to the CMMS/EAM, or remote training or asset breakdown support from vendors by using VR headsets.
''Asset managers have to find new solutions to meet clients' expectations and offer them a much more personalized and intuitive experience at just a moment's notice. Offering clients a high degree of automation and digital flexibility to bring end-to-end process efficiency should be a key part of the asset manager's agenda.''
Apart from the principal challenge of digitalization being the cost and speed of implementation, F & B manufacturers have to get over the internal resistance to change. There are still those in senior positions who actively resist the change or are suspicious of its benefits.
No technology is perfect, but the digital tidal wave has started.
4. Cost of maintenance
Maintenance costs have always been a challenge since time immemorial in all industries, but in F & B the costs bite more into the lower margin products. And with the current spiraling food, commodity, and energy prices being difficult to influence internally, maintenance costs are the perfect area to make strategic improvements.
That doesn't mean slashing the budget.
Although maintenance departments are also suffering with spares logistical delays, lack of skills, staff turnover, and new technology challenges, the answer lies in professional asset management. It means running the wider organization - and more specifically production and maintenance – with modern asset management practices. By introducing these, F & B manufacturers will begin to deliver real, long-term value from the assets by having a coherent strategic plan, aligned decision-making, and a clear understanding of risk. From the perspective of maintenance, this means managing the asset health, planning for maintenance, and deriving strategy and plans using risk-based tools.
It may cost more initially but the savings are there for the taking with improved availability and reliability of critical assets.
5. Regulations & standards
F&B manufacturers are governed by strict regulations to ensure the safety of the public and employees alike and protect the wider environment. Well-known organizations such as the EPA, FTC, OSHA, and the FDA rigorously enforce the rules and ensure compliance by way of regular audits. Unfortunately for the F & B manufacturers, the regulations and standards are constantly evolving to keep up with the changes in the people, the processes, the technology, and the wider world. So, to keep up with the continuous changes is a tough challenge for the industry. Quite often, if a company hasn't made itself aware of a rule change, it must recall its products from shops and supermarkets, and this may lead to financial losses. To mention just a few, the changes expected in 2022 are the FDA updating the definition of 'healthy'; the FDA and USDA resolving labeling clarity on animal cell technology; and increased scrutiny of the level of heavy metals in baby food.
Just like other industries, the F & B sector is facing significant changes and challenges in the 2020s that may well put some out of business or at least at risk of losing market share to more agile competitors. The crucial challenges above highlight the need to be vigilant, informed and continuously improving and striving for excellence in all parts of the organization.