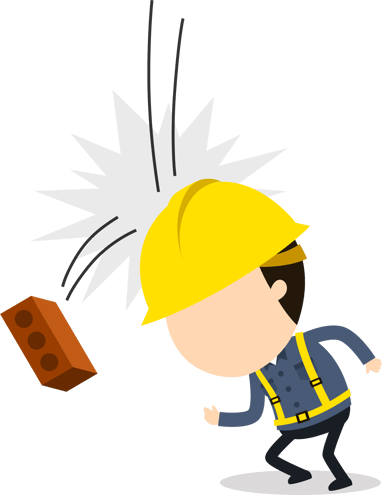 When you walk around any typical industrial site, you see all sorts of maintenance work going on.
Mechanical clunking of spanners on bolts, multi-colored electrical wires dangling from ceilings like twisted vines, welder's hot sparks flying into the air like mini-firework shows, towering cranes trundling along on their old tracks, and engineers crawling into confined spaces like cavers in the dark…
Only considering these few simple maintenance tasks, the hazards can result in broken bones, electrical shock, burns, and crush injuries. Not to mention the risk to life. Not only are the maintainers at risk, but anyone passing by or near the work. With so many hazards, it can be very dangerous out there.
We need safety permits and robust permit-to-work systems for all these different types of tasks. The hazard risks need to be minimized and mitigated. Let's look into the types, risks, and precautions taken for some standard safety permits.
A permit-to-work system is a formal recorded process used to control work which is identified as potentially hazardous. It is also a means of communication between site/installation management, plant supervisors and operators and those who carry out the hazardous work.
What are the common types of safety permits?
Let's look at the most common in industry: mechanical, electrical, hot work, confined spaces, line breaks, and cranes.
Mechanical Work
Mechanical Work is a very common safety permit to protect most maintenance and operation, employees. It allows for the isolation of machinery that can cause significant injuries from stored energy such as hydraulics, pneumatics, tensioners, and accumulators. It can also involve the purging of dangerous gases and liquids in process industry pipelines. These inherent risks can be very severe and highly likely in most asset-intensive industries. In some industries such as oil and gas, chemicals, paper, and steelmaking, you may find ATEX zones. This refers to areas of plant where explosive atmospheres can be caused by flammable gases, vapours, or combustible dusts. Here you must take extra precautions such as anti-static clothing, labelled zones, ATEX-rated electrical equipment, and spark-free tools. The initial risks – prior to Permit-to-Work and risk assessments – should be considered high when working around mechanical assets. Typical precautions taken to reduce the risks would be valve isolations, flange isolation with spades and plates, purging of pipelines, lock-out-tag-out (LOTO) procedures, and personal protective equipment (PPE). There will still be residual risks when performing the maintenance task, but these should be addressed in the safe working procedure and risk assessment.
Electrical Work
Replacing a failed motor where humidity has caused insulation failure is a simple example of where an electrical work permit is used. The motor has to be electrically isolated for the power supply cables to be removed. If the power is not isolated, then there is a very high risk of an accident. These types of permits are used to protect those working around electrical systems and devices such as distribution boards, isolators, switches, and busbars. Typical industrial voltages can range from 240 to 600 volts depending on the asset application and can seriously harm workers who come into contact with live cables. Industrial distribution voltage levels are in the kilovolts.
In terms of severity, these hazards present the risk of severe electrical shock, burns and even death. Without a safety permit in place, the likelihood of risk and injury is high. In tandem with PPE, the most typical precaution for electrical work is LOTO and multi locks can be used where multiple workers need to work on the isolated equipment. Although these actions will reduce the risk, there is always the possibility of residual risks or incorrect assumptions about circuits being dead. Electricians must always test that 'dead' circuits are isolated before working on them and this must be part of the safe system of work and risk mitigation.
Hot Work
Hot Work is a work that involves burning, welding, cutting, brazing, grinding or any work that creates a source of ignition. Anyone in the immediate and wider work area is at risk – not just the welder or grinder. Hot work presents several hazards: welding fumes that can be inhaled, skin burns, welding arcs that damage eyesight, and explosion risks if the work takes place in flammable atmospheres or near hazardous materials that cannot be removed. When uncontrolled or without a permit system in place, the risks and likelihood of an accident will be high. The typical permit system precautions will be trained and competent tradespersons, barriers and cordons, fume removal equipment, fire blankets and extinguishers, PPE, and the removal of nearby fuel sources where possible. There will always some residual risk, but with a robust safety permit system in place, this should be tolerably low.
Confined Spaces
Confines Spaces is a permit to work in a place that is substantially enclosed and where serious injury could occur due to hazardous substances or dangerous conditions within the space. Confined spaces present a danger to all, but under permit systems, only qualified personnel are allowed in. The hazards can be a lack of oxygen, toxic atmospheres, oxygen enrichment, and excessive heat, for example. Confined spaces are very dangerous and the risks are high due to high likelihood and high severity if an accident occurs. Several precautions can be taken to reduce the risk: permits-to-work and method statements, emergency procedures, isolations, ventilation, trained and competent personnel, trained rescuers and standby personnel monitoring the work. These precautions will bring the risk down to a tolerable level.
Line Breaks
Closely linked to mechanical permits, line breaking refers to opening pipelines for cleaning and maintenance purposes. Maintainers working on the lines are those most likely to be harmed by steam, corrosive liquids, dangerous gases, dust, flammable liquids, and any medium at high pressures. Initial risk can be high in process industries with severity levels from minor injuries to death and a high existing likelihood of an accident. Precautions commonly taken to reduce the risk are safety permits and checklists, PPE, LOTO, purging of pipelines, flange isolations, and barriers and warning signs. If all the precautions are taken and workers are aware of the risks and hazards, then the residual risk will be tolerably low.
Cranes
These permits are very common for civil projects on our buildings and highways, but are also used in industrial settings for installation and removal of assets. Cranes come in many different sizes and pose a danger to all who go near them. The danger comes from suspended loads that can crush and cause death, crane contact with overhead electrical apparatus, and also crane overload. There is also a hazard to pedestrians and nearby workers in the form of crane movements, whether they are on wheels or fixed tracks.
The severity of crane accidents can be high and result in fatalities with a high likelihood if no safety permit system is in place. The precautions most often taken are safety permits, lift plans, lift limits, training, barriers, warning signs, weather assessments, and a bank person to guide the crane driver and lift. With all these precautions in place, the residual risk will be low but a cautious approach must always be taken.
This brief overview of the different types of safety permits in the industry has shown that there are many hazards and risks to consider. If an organization has a robust and reliable permit-to-work system in place, then these risks can be reduced to tolerably low and manageable levels.
Read next: What are the common Permit-to-Work Stages?
Solution
Dynaway offers Safe Work solutions for Microsoft Supply Chain Management (F&O) and Business Central platforms.
With Dynaway Safe Work you can make sure that all workers have needed safety permits to avoid fines, downtime, and accidents.
The Safe Work module allows users to manage permits as if it was a paper-based form. Permit templates make it easy to create customizable checklists, questions, dropdowns and instructions for those filling in, approving and using Permit forms. This ensures that you will have a consistent way of creating permits. Permit forms can be modified at any time, without affecting active and completed permits.
Learn more: