Today's first-line manufacturing workers have more on their plates managing and maintaining complex machines and other assets than ever before. As production volumes increase and processes become both more complicated and diversified, first-line workers must accommodate additional demands, balance changing workloads, and overcome obstacles from legacy asset management systems unsuited to modern manufacturing. Dealing with old systems incapable of efficiently handling the nature of contemporary manufacturing—where single factories producing a variety of diverse goods—represents an obvious hindrance to the efficacy of workers who are forced to swivel-chair from task to task and from software system to software system. Plus, it causes downstream frustrations for maintenance and procurement teams who must react to inconsistent processes.
Imagine a system that could account for the complexity of modern manufacturing, enabling manufacturers to solve the hardest asset management problems on the easiest to use platforms. A modern Enterprise Asset Management (EAM) system does just that by providing manufacturers with a unified approach to inventory, procurement, and maintenance management. Let's look at how a capable EAM system is key to empowering a Factory of the Future, streamlining and simplifying the work of manufacturers' first-line employees, and enabling them to proactively and productively do their jobs without having to guess what's coming next.
Easily delegate work orders to your team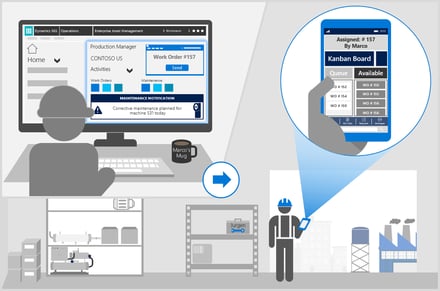 Marco, a supervisor at the Factory of the Future, arrives at his office in the morning. He grabs a cup of coffee from the kitchen and opens his Enterprise Resource Planning (ERP) system. In the EAM module, Marco sees there are already 20 new work orders for his five-person team. After assigning a work order to each team member, he releases the other 15 work orders into the Kanban board. From there, his workers can assign the remaining work orders themselves. With his team running self-sufficiently, Marco grabs another cup of coffee before catching up on emails.
At the same time, one of his reports—Jurgen—is getting ready to leave the factory's maintenance center and opens the EAM mobile app from his phone. On the dashboard, Jurgen can see the work order that was assigned to him moments ago as well as the six highlighted work orders that he is qualified to complete out of the 15 on the Kanban board. Tapping on the Kanban board icon gives Jurgen a full view of the unassigned work orders as well as a time estimation and a list of suggested materials he'll need for each job. Jurgen picks three other work orders for his day and moves them from the team to-do list to his queue. He grabs his materials and tools from the storage room, then heads to the first work site.
Streamline access to work orders – wherever and whenever you need them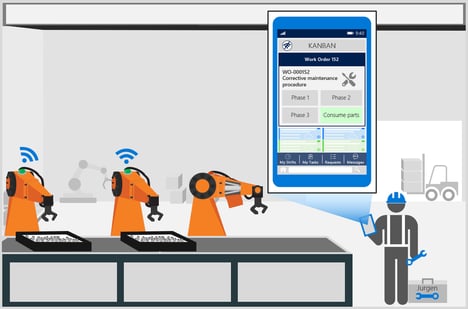 His first assignment takes him to a remote part of the factory, and Jurgen loses internet connection on the way there. Fortunately, Jurgen's work orders are automatically saved offline on the mobile app, and he accesses them at the work site without even realizing he's offline.
Jurgen's first work order involves replacing a part on a robotic arm. The part hasn't failed yet, but Jurgen knows it will soon—stress measurements that were recorded the day before had passed the maximum limit set by Marco in the EAM module, prompting the system to automatically create a work order to have the part replaced. An hour and a half later, Jurgen is done with the work order. He opens the app to document the spare parts he used and the time it took to complete the job before submitting it as complete.
Avoid downtime by creating maintenance requests easily and quickly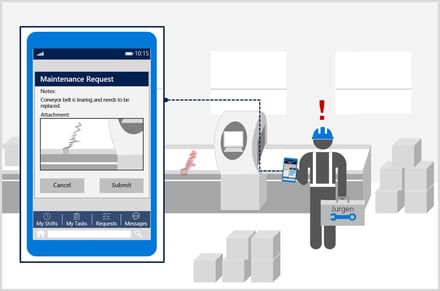 Jurgen moves on to the second work order assigned by Marco and completes it without incident, but on the way to the third work site, he notices a conveyor belt on an assembly line beginning to tear. Jurgen knows he needs to get to his third work order, so he quickly opens his EAM mobile app, takes a picture of the tear, and attaches it to a new maintenance request. Once Marco approves and releases it to the Kanban board, another one of Jurgen's team members will be able to take on the task, hopefully completing it before the end of the day.
Back in his office, Marco sees the new maintenance request from Jurgen in his EAM module. From Jurgen's picture, Marco can clearly see that there's a problem with the assembly line's conveyor belt, and he approves the maintenance request so the proper spare parts can be accounted for in the procurement office.
React to unforeseen problems in real time
Partway into his third assignment, Jurgen sneezes and drops the fragile filter he was inspecting. It's not completely broken, but Jurgen sees a crack in the frame that indicates it must be replaced. In the mobile EAM app, Jurgen requests a replacement part be expedited to him at the machine. Moments later, Jurgen is alerted that his request has been approved, and the part will arrive in two hours. Since Jurgen's fourth work order is nearby, he heads over to complete it in the meantime.
After another two hours, Jurgen finishes up his fourth work order. In his mobile app, he checks off the actions he completed and the materials he used. He also checks the status of the maintenance request he submitted for the assembly line that afternoon, and is relieved to see that it was approved by Marco and completed by another team member.
Now, Jurgen can shift his focus back to the broken filter. Jurgen opens his third work order from the mobile app again, and sees the expedited replacement filter in the associated objects. Tapping on the part, Jurgen sees that it was delivered and is awaiting installation. He heads back to the third work site, finishes up the work order, and marks it as complete to finish up his day.
Marco is also close to heading home, and he logs into the EAM module of his ERP to check his team's progress. All the work orders were completed, meaning Marco will be buying the team donuts tomorrow. He also notices a new low inventory alert on one of the supplies that Jurgen used on a work order. The system has already generated a PO for the supply and gained approval from procurement, so all Marco has to do is click submit before logging out and heading home for the night.