As the saying goes, 'it takes a village to raise a child.' And when it comes to ensuring the functionality and availability of your most critical assets, it takes a maintenance team.
Because your maintenance team plays an important role in your facility, every employee matters. Here, we'll guide you through everything you need to know to assemble the most effective team of technicians in your maintenance department.
Why an effective maintenance team is important to maintenance operations
There are few things more critical to your maintenance department than the technicians who make up your maintenance staff. After all, it's the responsibility of every maintenance technician to uphold the integrity and reliability of your equipment.

When a critical asset suddenly goes down for repair due to missed or inadequate maintenance work, it hinders business continuity. In fact, the average manufacturer loses 800 hours of work every year due to downtime, according to Forbes. And in the case of heavy machinery and dangerous equipment, an abrupt failure could pose a risk to employee safety.
For these reasons, your maintenance department needs a team of technicians with the skills and experience necessary to ensure these negative outcomes are avoided. Building your maintenance team comes down to filling a few key roles within the department: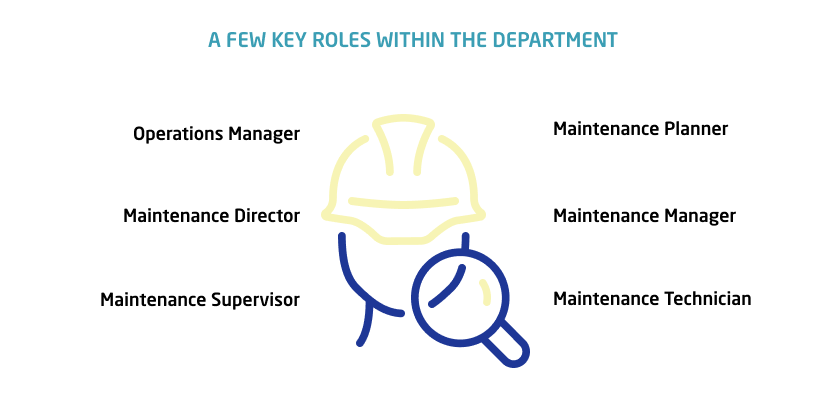 Operations Manager:

Although not directly involved in the maintenance team, operations managers are responsible for overseeing the productivity of the business – maintenance work included.

Maintenance Planner:

The planner's goal is to anticipate and eliminate potential maintenance delays by planning and coordinating labor, parts, materials and equipment.

Maintenance Director:

The director oversees the work of the maintenance staff, creates maintenance goals and provides a budget to leadership.

Maintenance Manager:

Not only does the maintenance manager develop your overall maintenance strategy, they also optimize maintenance costs and oversee inventory management.

Maintenance Supervisor:

The supervisor is responsible for scheduling maintenance activities and delegating tasks to the technicians. Some supervisors may also participate in the recruitment, onboarding and training of new hires.

Maintenance Technician:

Each maintenance technician is responsible for carrying out the assigned tasks of the maintenance department, as well as repairing equipment in the case of an emergency.

The duties listed above may or may not be performed by multiple positions. It's common for smaller organizations to have multiple roles covered by a single employee rather than each critical position filled separately. For example, a maintenance director, manager and supervisor can each be the same person within the maintenance department.
How to build the best team for effective maintenance procedures
The good news is that there's no shortage of applicants when it comes to maintenance work. With the global maintenance repair operations industry steadily growing, per Business Wire, technicians are high in demand.
Of course, that doesn't mean all applicants are right for the job. Your maintenance team needs employees with the appropriate skills to mitigate asset failure, carry out preventive maintenance and support your overarching strategy.
Here's what you should be looking for in the ideal maintenance worker:

Technical knowledge:

Most simply, your maintenance staff should have the expertise to know what they're doing. With many rotating principles, safety requirements and specifications, maintenance work can be complicated. Your team needs the ability to handle and rectify issues when they arise.

Communication:

Your maintenance team is exactly that – a team. Look for employees that can work together to solve problems and don't have an issue buying into your common purpose or overarching strategy.

Problem-solving:

When equipment goes down and emergency maintenance is needed, you need workers that are quick on their feet – especially when working under pressure.

Forward-thinking:

You need workers who keep preventive maintenance top of mind and are equipped with the skills to predict asset failure before it occurs.

Adaptability:

Perhaps most critically, you need personnel with the flexibility to embrace change, particularly in regards to technology. Those who can leverage new innovation to their advantage are a major asset to your maintenance operations.
Managing your maintenance team: Tips and best practices
To run your maintenance operations as seamlessly as possible, it's important to follow the best practices:

Establish a common purpose
It's vital to engrain a shared understanding of the company's vision and values in your maintenance department. Communicating a defined purpose to your team will ensure everyone's on the same page and working toward a common goal. When making changes, such as investing in new technology, be sure to explain why they're relevant to making that goal a reality.
Track performance
Assess the performance of your maintenance staff using targeted key performance indicators. Be sure you're using measures that are truly reflective of employee performance and growth, rather than those that only track job requirements.
Embrace innovation
Leveraging technology to your advantage can yield tangible benefits to you and your employees alike. Investing in a computerized maintenance management system (CMMS) or an Enterprise Asset Management (EAM) solution allows you to take a more efficient approach to maintenance activities, especially when it comes to labor management and reporting.
Leveraging technology for a more efficient approach to maintenance
Managing your maintenance team and their activities is easy with the advanced capabilities of an EAM or CMMS. With technology in hand, you're empowered to optimize the team in a number of ways:
Automated scheduling:

Ensure the necessary labor is there when you need it while also putting a cap on excess overtime. Labor forecasting abilities allow you to plan for scheduled maintenance and ensure critical tasks are completed on time.

Reduced overload:

Allocate maintenance work more efficiently, optimize workloads and reduce the risk of human error.

Static to dynamic:

Forecasting abilities empower you to transition from a purely corrective maintenance strategy to a proactive, preventive maintenance approach.

Checklists:

Through a mobile client, technicians can access digital checklists to ensure all tasks are completed as required.
Dynaway's Microsoft 365-based EAM not only streamlines maintenance management but reduces unplanned downtime, increases visibility and supports your maintenance team on a daily basis. To learn more, check out our comprehensive EAM tool today.