In Dynaway EAM, the Kanban board is used for handling and completing work orders within teams on the Mobile Client. For example, your company may set up teams of workers with different skills to work on specific work orders, or you may have groups of professionals such as electricians, mechanics, or plumbers, who work on the same types of jobs / work orders, or groups may be divided geographically on a site if you have multiple production facilities on one company address.
A work order can go through certain work order stages in the process from creation through processing to completion. If your company uses the Kanban board, you must set up kanban stages to be related to work order stages in Dynamics 365 for Finance and Operations > Enterprise Asset Management. In the table below, we show examples of how work order stages and kanban stages can be related. Your company may use other terms for work order stages, but the kanban stages are predefined, and you can only select the five kanban stages presented here: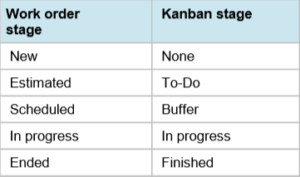 Below you see an overview of the kanban stage descriptions; four columns = four kanban stages: To-do, Buffer, In progress, and Finished.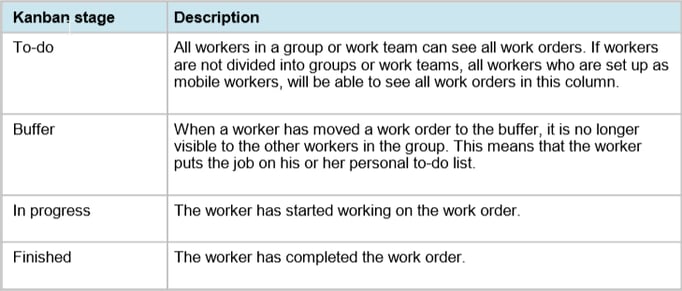 During the processing of a work order, the worker moves the work order from one stage to the next, and work order data are automatically updated in Dynamics 365 for Finance and Operations.
You are more than welcome to contact us for more information or read about Dynaway EAM