The Dynaway Enterprise Asset Management solution is BUILT-IN, not bolted on! We provide full integration with Dynamics 365 for Finance and Operations.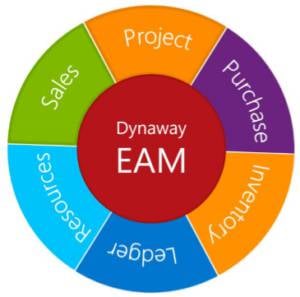 Purchase:
We can create a material requirement if a part is needed for a work order;
We can create a purchase order in Dynamics 365 for a part or service from a work order;
Objects can be created from a purchase order if equipment is purchased;
We can create purchase requisitions from a work order
Inventory:
Consume and decline inventory directly from Dynamics 365;
View inventory levels on a work order in real-time;
Look up and view inventory instantly across warehouses and sites;
Complete spare parts management (prices, vendors, lead time etc.)
General Ledger:
Costs from purchasing for spare parts and work hours flow into the ledger accounts you set up with no additional manual interaction required;
Budgeting options in Dynaway EAM for manually updating the general ledger budget in Dynamics 365;
General ledger dimensions inherited from functional locations and transactions are posted automatically
Resources:
Create capacity reservations on equipment that must be closed down for maintenance;
Validate human resources for the skills or certifications required for a work order;
Capacity reservations on tools (resources) required for maintenance;
Sales:
Objects can be created based on sales orders
Project:
We support CAPEX projects. If maintenance workers work on Capex work orders, costs can be capitalized on the fixed asset;
Invoicing maintenance is done from projects (external service)
Production:
Production resources can be booked (reserved) for maintenance;
Production can request maintenance for the production equipment;
Operator maintenance can also be performed
System:
One database (no database integration required);
Dynamics 365 security, same security model you use currently;
Document handling uses standard Dynamics 365 document management;
Import/export tools, entities etc., same tools you use for Dynamics 365 are available with EAM.