User Group Summit in Phoenix was a blast! Many thanks to our customers, partners and everyone who stopped by our booth to talk and try out HoloLens, which was a big hit this year!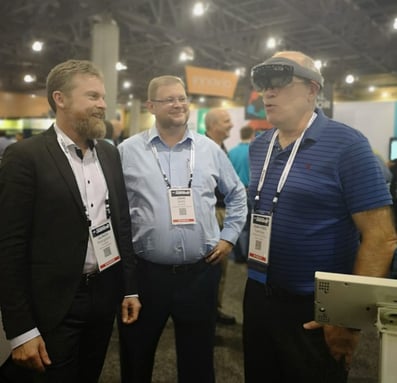 About Microsoft Dynamics User Group Summit
User Group Summit is the largest event for Microsoft Dynamics and other technology professionals that tackles what's going on in the industry and follows the trends in the Microsoft ecosystem. It helps to connect with other Dynamics and technology professionals, learn what they are doing, and bring those new ideas back to your company.
During this event, you can find partners who are a perfect fit for your specific needs. The Expo Hall is filled with third-party solution providers, implementation consultants, and training partners who not only specialize in Microsoft Dynamics and other technologies but who truly understand the challenges unique to your industry.
Experts, MVPs, and Microsoft team members discuss industry trends, product roadmaps, and learning strategies impacting your organization.
We believe it is a great networking opportunity that can't be compared. Summit creates the space for easy knowledge sharing so you learn from other people experiences that only come from unscripted conversations.
The expo is filled with more than 380 leading industry suppliers and the latest and greatest tools and technologies, all ready to help us solve our organization's biggest challenges.
Sounds good? Join us next year in Orlando, Florida, October 13-18, 2019!
Be sure to follow our LinkedIn page, where we share the latest news and information.