The benefits of condition-based maintenance (CBM) are now as clear as they ever were.
At the dawn of the industrial internet of things (IIoT), asset-intensive and excellence-focused manufacturers are realizing the benefits that reduce operational expenditure, improve output, and increase asset health and knowledge through dynamic data.
With the arrival of permanently-fitted sensors on our physical assets, the industrial internet of things (IIoT), maintenance 4.0, and industry 4.0 are changing the way we do our maintenance.
It is a revolution unfolding before our very eyes.
We are seeing a change from the old methods to new continuous, digital monitoring of asset health and condition with dynamic information sent to the cloud via Bluetooth, wi-fi, and gateways.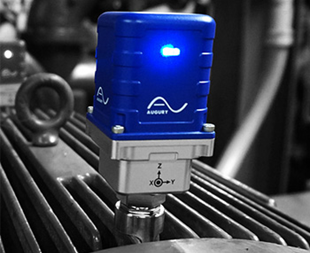 Tri-axial, Bluetooth vibration sensor. Source: https://www.augury.com/machine-health-solutions/
If we understand asset health at any moment in time, then we can perform that most cost effective of all maintenance – condition-based maintenance.
In this new era of digital transformation and connectivity, diagnostic and analytical information is often available in real time to all stakeholders in asset information systems. This digital leverage now helps the planning and scheduling of maintenance greatly. And that means efficiency and effectiveness gains that help build the bottom line for modern, excellence-focused organizations.
In w

hat ways can we perform maintenance?
In simplistic terms, the diagram below shows how maintenance types are split. Preventive maintenance is divided into time/usage-based maintenance and condition-based maintenance.

The other type of preventive maintenance – time/usage based – can be more expensive to deploy. This is because you run the risk of over-maintaining assets by maintaining on a fixed schedule.
But we should ask ourselves: Is the asset or component we are about to replace perfectly fine to continue?
We often don't know the answer to this question until we pull the machine apart and take out the component.
Often that component will be in good condition and perfectly fine to continue.
This is why condition-based maintenance is more cost effective.
Condition-based maintenance
CBM is performing a repair or replacement task based solely on the measured condition or health of an asset. It gives us an early warning signal of potential or impending asset or component failure. The most well-known condition monitoring (also known as Predictive Maintenance) technologies include:
Vibration analysis

Infrared thermography

Oil analysis

Ultrasound

Motor current signature analysis
Online oil condition sensor. Source: https://oilqualitysensor.eu/ocm-on-generatorsets/
You measure a specific parameter of an asset's health such as vibration, temperature, or contamination. Then you trend the parameter value over time. When you believe it has reached a critical point that the asset is advancing towards a functional failure, then you schedule a condition-based maintenance intervention.
Typical CBM maintenance interventions:
Re

-greasing

bearings

Tightening loose hold down bolts

Balancing

couplings

Ren

ewing electrical cable terminations

Replacing a rolling element bearing

Aligning pump sets



The Top 5

B

enefits of

CBM
1. Lo

wer maintenance costs
CBM is the most cost-effective and economical way of maintaining assets based on real, actual deterioration mechanisms. CBM will have the highest monitoring costs – although these are negligible with the advent of Industry 4.0 - but it will have the lowest asset repair costs compared to reactive maintenance and time/usage-based maintenance.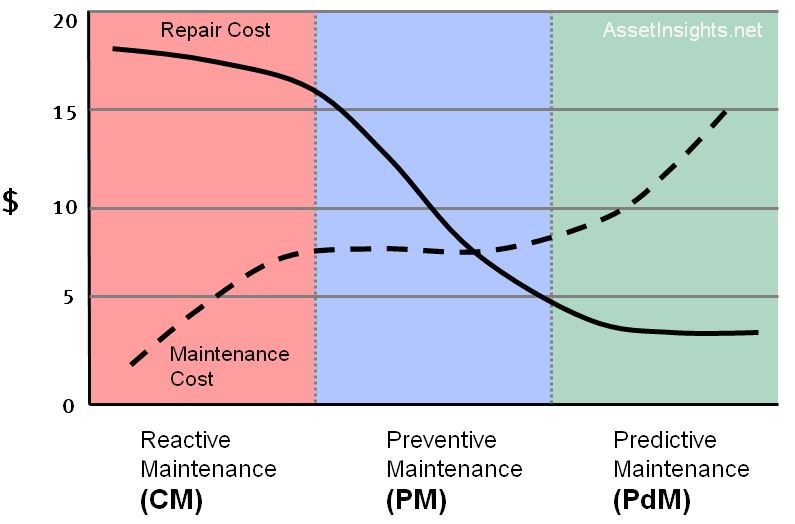 2. Increased production output
If you can plan and schedule maintenance, then your asset availability and performance levels will be higher, and this of course means higher production output.
3. Longer asset lifecycles
Not letting assets fail in service protects their physical integrity because sudden failures often cause secondary damage to connected components.
The less invasive PM replacements and inspections, the better.
Longer asset life cycles mean reduced operational expenditure (OpEx) and a reduced requirement for capital expenditure (CapEx).
4. Improved planning, scheduling

,

an

d

spares forecasting
When you are in control of your assets' maintenance – not the other way around – this allows you to carefully plan and schedule resources. Not only can you plan and forecast your spares well in advance, but also human resource levels.
5. Reliability Improvement
A great benefit of condition monitoring and asset health information is that you can use it for defect elimination and root cause analysis processes. CBM cannot improve asset reliability directly, but the information gained can later be used to improve the probability of successful mission time. As part of a reliability program, the information you gain on your pumps, motors, fans, and gearboxes is invaluable is reducing future defects and asset failures.
Monitor your assets

constantly

-

Improve your maintenance program
IIoT sensors now allow us to monitor our assets 24/7.
Digital, big data is constantly streaming back to the cloud and then through IoT value chains for higher and higher predictive maintenance performance. This is transforming the maintenance programs of those enlightened companies that strive for excellence, business intelligence, and real-time data analysis in their physical asset management strategies.
The path from sensor to maintenance intervention can be short and sharp: IoT sensor data can be used to trigger work orders directly from your CMMS or EAM. This is how the maintenance landscape is changing.
Industry 4.0 is growing and infusing everything you see around you.
Faults are being discovered faster and faster. The risks of unplanned downtime are lowering every moment that passes. Condition-based maintenance is well-placed to take advantage of the value that can be delivered through digital transformation in the industrial arena.
Make your decision-making intelligent. Make your maintenance intelligent.
Will you and your organization take advantage?
Read next: Comprehensive guide to IIoT in Maintenance