Many Industrial IoT projects fail.
Many IIoT value chains have ended up with broken, rusting links.
That's been a disappointing fact of life so far for many organizations on the IIoT and industry 4.0 journey to digital transformation and operational optimization.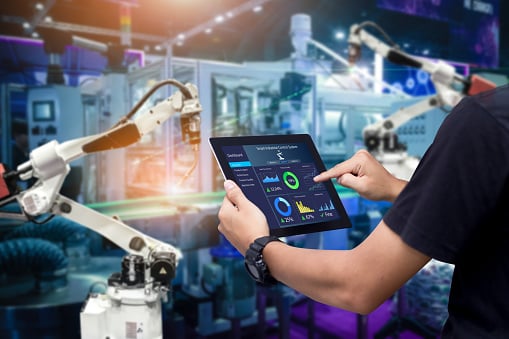 A Cisco survey conducted by Beecham Research revealed that 74% of IoT projects in the US, UK and India were considered failures. On top of that, Microsoft's IoT Signals Report identified that 30% of IoT projects fail to get past the proof-of-concept stage.
That's a high number by anyone's definition.
Before we all get too pessimistic and dream of going back to dial up internet connections, let's understand why they fail and what we can do improve our chances of success.
IoT-enabled technologies are emerging in all areas of the business world, transforming business models and enabling the creation of new products and services across virtually every industry.
KORE: Comprehensive Guide to a Successful IoT Implementation
Why do IoT projects fail?
As with any project, there are a multitude of ways in which things can go wrong.
Just like failure modes on an asset, projects have their own failure modes and causes. But IIoT projects are more complex than physical assets and so we need to be especially aware of the risks.
Let's look at some of the key reasons for failure:
Lack of knowledge and staff resources
Lack of skilled staff is a problem in most industries, and IIoT projects are no different.
Entire projects can be disrupted due to the people that implement them.
The Microsoft IoT Signals Report shows that a lack of skills, talent and suitable training presents a challenge for half of IoT adopters. A worrying 47% of Microsoft's respondents replied that there are not enough available skilled workers to implement IoT projects successfully.
API design not considered critical
The API (application programming interface) is ultra-important to the high performance and functioning of IIoT solutions.
When it is designed poorly, the consequences and knock-on effects can be devastating. Programmers will have to patch up poor APIs with new code and workarounds, and it all gets messy very quickly.
Later, more intervention is needed for upgrades and one poor API can take out an entire system.
Clients don't like downtime.
But you know that already.
Documentation is more important than you may think
User and developer documentation – or more to the point, lack of it - can be the cause of failed IIoT projects.
Something so simple is surprisingly often overlooked and considered as a nice to have option. And that's why it is left out sometimes.
If your IIoT project does not have adequate documentation, then there is no consistency in decision-making, no predictability in fault finding, and no procedures and no standards to follow to assure high system reliability.
Everyone interacting with the project and the subsequent live system – if it gets that far! – will do what they want.
It's a business risk.
Inadequate budget
You must be nodding your head at this one?
The curse of any project! Yes, we've all had issues with this at some time or another.
An IIoT project can be a significant undertaking and all risks must be considered up front. In terms of budget, your organization must be realistic in what can go wrong. Here are some common issues:
Extended completion times

Scope creep

Vendor service issues

Human errors

Hardware failures or poor reliability

Loss of skilled resources mid-project

Unexpected issues
Make sure your financial safety margin is well thought out, and all those extra expenses have been given at least some thought.
Reducing the chances of failure
As well as being aware of the issues we've already talked about, here are some broader tips on how to reduce your chances of IIoT project failure:
Ensure there is a positive Return on Investment (ROI) and business case for the IIoT project
Before embarking on an IIoT project at your site or organization, be 100% sure there is a business case for it. Don't implement the technology just for the sake of it. Shiny, new sensors and digital dashboards are nice and all, but do you really need them?
It has to be worth doing and have a clear ROI.
It must deliver value to your organization.
Be crystal clear on the specific goals the business wants to achieve with IIoT
Make sure that your organization's goals aren't solely the successful implementation of the project.
That is not the success you are looking for.
The IIoT project must deliver specific business goals.
These could be things such as improved asset availability, operational efficiency targets, increased customer satisfaction, and a whole lot more.
Ensure executive level buy-in to support the IIoT project
This is a big one.
Without that high-level executive support and backing, any project will fall through the connectivity cracks and be forgotten in the mists of time. The organizational and business leaders must back the project publicly and privately.
This is a critical success factor for an IIoT project.
Internal skills and knowledge of the IIoT technologies is essential
We've mentioned this and it's worth mentioning again.
Skilled, capable, and knowledgeable human resources make a tremendous difference to IIoT projects. The right engineers, technicians, developers, and programmers are the bedrock of successful IIoT implementations.
Get them, feed them, and make sure you keep them!
Create and use a project risk register
Finally, we strongly recommend keeping a risk register (in tandem with your project planning) to keep a close eye on the bumps in the road. Those will come along no doubt and do their best to ruin all your digital transformation efforts.
But if you are dynamic and managing risk and potential consequences on a regular basis, i.e. watching out for it, then you will be in a strong position to deliver your IIoT project on time and on budget to a satisfied customer.
And that's what it is all about: managing project risks and setting you and your team up for success.
Get connected!