The planning board module for Microsoft Asset Management in Dynamics 365 Finance & Operations is used for planning unscheduled work order lines on individual workers. Planners, supervisors, and managers can schedule and reschedule work order lines on the Mobile Client. Scheduling is updated in real-time. You drag-and-drop a work order line from the unscheduled area to the calendar area to schedule it.
The planning board is meant to be used for tasks or jobs that require only one worker per work order line, and no additional tools or other capacity reservations to complete the job.
The planning board does not calculate against the work time profile for a worker, in which the worker may work in an 8-hour day shift or night shift. On the planning board, 24 hours are available for every worker every day, meaning that you are able to override calendar capacity, if required. This may be useful if, for example, workers have been asked to work on a Saturday or Sunday, which is not part of their standard work schedule.
The Planning board on the Mobile Client is meant for more simple planning with a short time span. This means an easier way of handling planning and scheduling for more 'simple' jobs.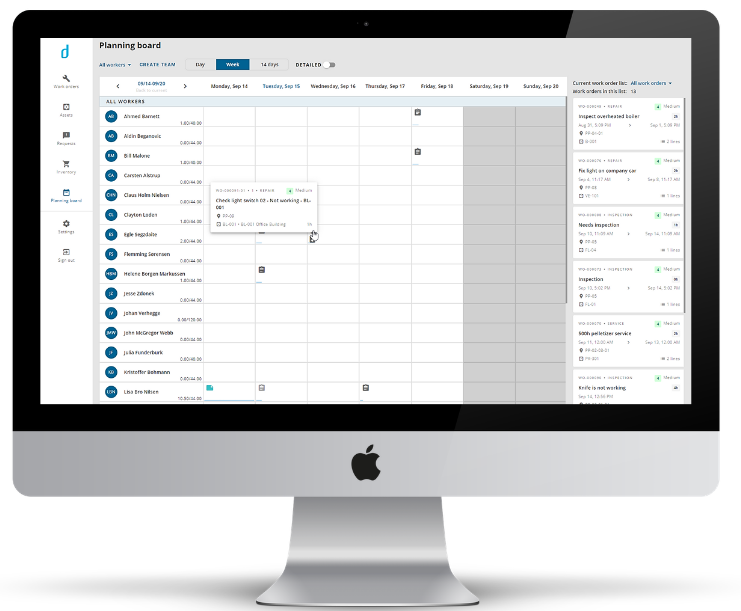 Validate Maintenance Scheduling

You will see a warning on the screen if scheduling conflicts occur, for example:
· The worker calendar is not open / no available work time.
· The worker is scheduled to work on other tasks.
· The worker does not have the skills or certificates required to do the job.
· The worker is not set up with the trade and related certificates required.
to do the job.
· The same work order line is scheduled multiple times to the same worker on the same start date and time.
· The object has other reservations.
· Scheduling date and time are in the past.