We are pleased to announce the preview program of Dynaway EAM for Microsoft Dynamics Asset Management!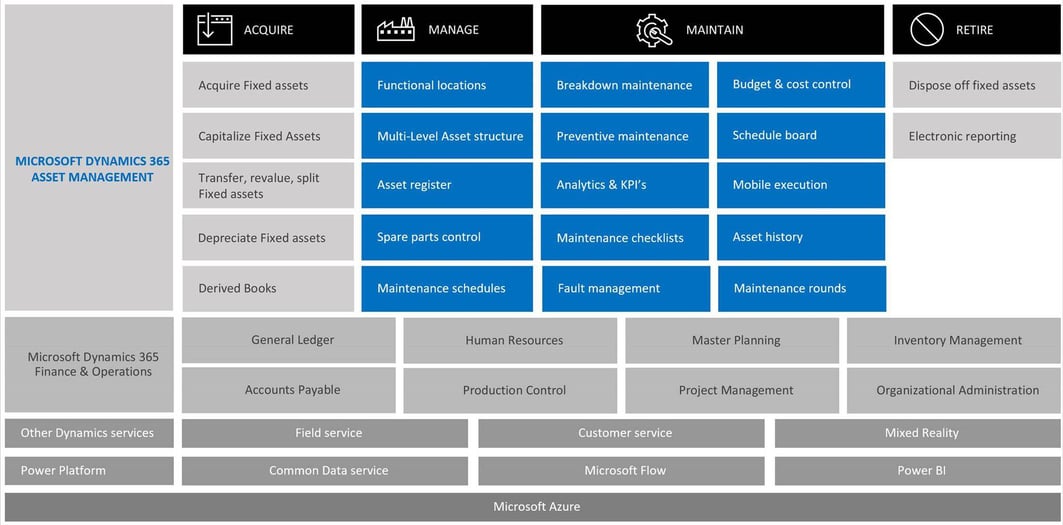 The Microsoft Asset Management (AM) solution will enable our customers to efficiently manage and carry out all tasks related to managing and servicing many types of equipment in their organization , for example, machines, production equipment, and vehicles and will be able to manage end to end lifecycle of an asset.
The end result is that you can optimize the lifespan of assets and reduce costs and production downtime, all of which drives efficiencies in maintenance planning, execution, and analysis. This solution will work seamlessly with other functional areas of Dynamics 365 for Finance & Operations as well as other Dynamics solutions, Power Platform and leverage the capabilities of the Microsoft Azure cloud.
The Microsoft Dynamics 365 Asset Management preview features will be released in 2 phases. The first phase will be released on 22nd July. The 2nd Phase will be released on the 1st week of August and will have the additional capabilities.
Joining the preview program
The Asset Management preview program will be managed via Dynamics 365 for Finance and Operations Insider Program.
You can read more here.
As soon Dynaway EAM will be included in the standard Microsoft Dynamics 365 package, we offer a certification course for Enterprise Asset Management (EAM), hosted at convenient locations in North America and Europe. You will get hands-on experience with Dynaway EAM and be certified as an EAM professional. The course is led by Thomas Krogh (LinkedIn), a Dynaway Senior Consultant with more than 20 years of experience with Microsoft Dynamics and EAM.
This course provides you with up-to-date knowledge of EAM on Dynamics 365, including hands-on experience with the main features of the EAM module for you to be able to support your customers. At the same time, you develop a relationship with the Dynaway professionals who took part in the journey to make the EAM software the exceptional asset management solution it is today.