Dynaway EAM add-on for Dynamics 365 Business Central has four major releases during the year. One of them is just after Christmas Break, at the beginning of New Year. This time, during the past three months, we were working on new areas of the system. In this short article, I would like to highlight the most important features of the release.
Track your maintenance budgets in your ERP system
Role: Finance Manager, CFO, accountant or similar will be the owner of the structure and details of the budget. Potentially you may also create a first or final version and then present it to the relevant stakeholders.
Reasons and case: Maintenance cost cannot be unlimited and has to have an expected/reasonable cost, where everyone is aligned. The Dynaway EAM budget solution helps everyone with the visibility and purpose of taking ownership if something falls outside the expected cost levels:
Are we spending more than expected?

Is that because of resource cost, spare parts, external contractors – how often does it happen?

Which locations/departments are affected? Should we consider new equipment/replacements?

Does it affect our productivity and, thereby, delivery fulfillment?

Are we spending less? Why is that?

Is that always positive or because we don't have enough resources to fulfill the maintenance requirements?

Do we see extra breakdowns because of this?

Are we still compliant?
Functionality: One of the features that many of our customers requested is the ability to create a maintenance budget. In Dynaway EAM for Business Central, we added the possibility to create a budget for maintenance work. The managers get a tool to create many variants of the budget. The budget can be created on different levels such as Asset, Asset Category, Asset Location, or Work Order Category. The budgets can also have up to four financial dimensions if needed.

There are a few possibilities for how to create a budget. It can be done manually inside Business Central, or it can be imported from Microsoft Excel. There is also an option to copy the budget with a multiplier factor or create a budget based on historical data.

Managers can check if everything is going according to the plan during the year. In a special view, it is possible to see budget values versus actual costs in the period.

Functionality also allows exporting the data right to the Business Intelligent tools such as Power BI.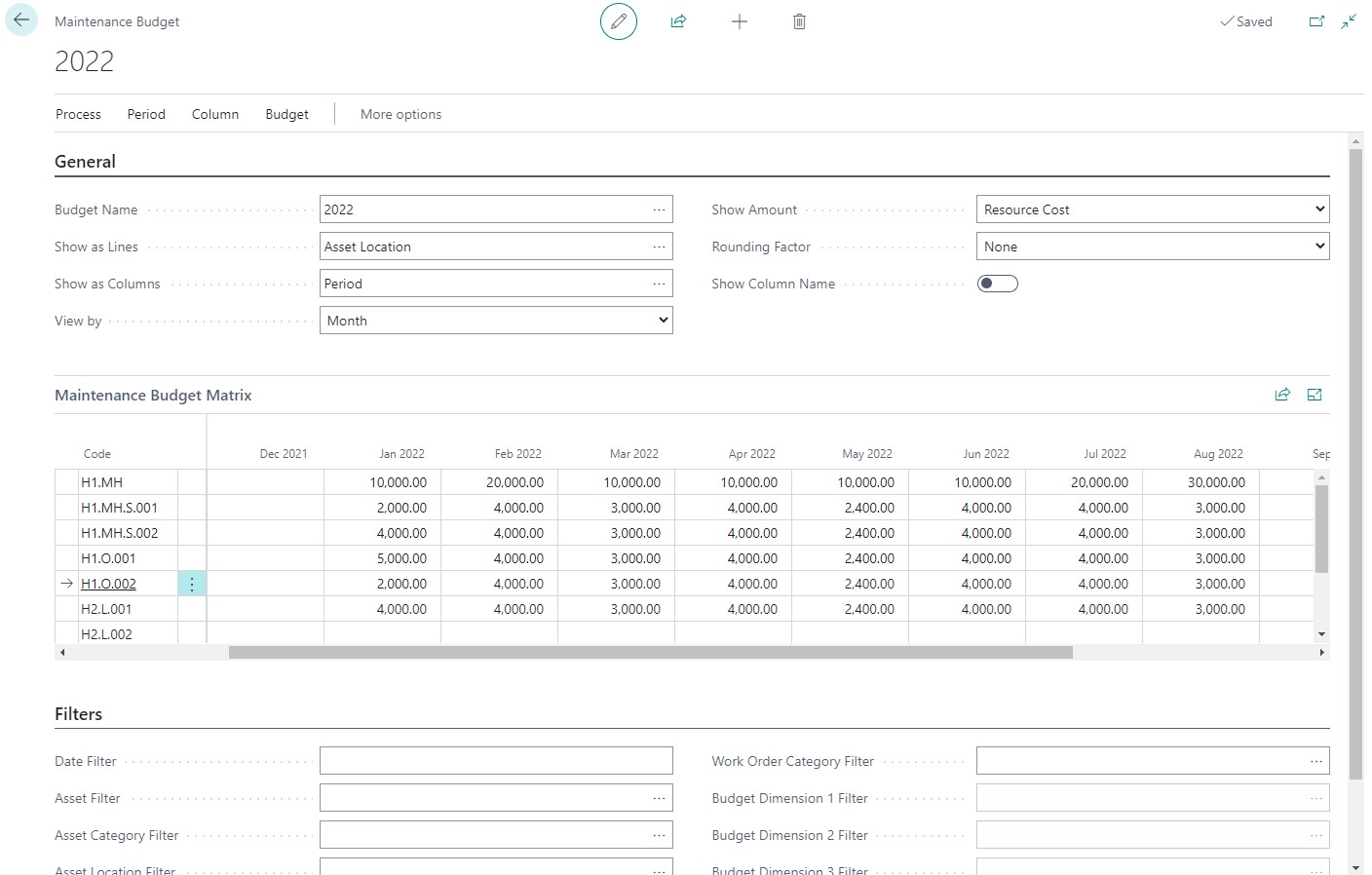 Integration with manufacturing

In the January release, we connected the Manufacturing module in Business Central with Dynaway EAM. From now on, operators and manufacturing managers can create maintenance requests, register counters, and measurements without leaving the Production Order screen. The new feature also automatically captures the counter readings based on the quantity or/and time registered on the production order. Which later can be used for preventive maintenance of work centers and machine centers.

Additionally, it is possible to define if the downtime of the asset reduces the capacity of the machine or work center. It allows for better communication between production and maintenance departments and improves the manufacturing planning process.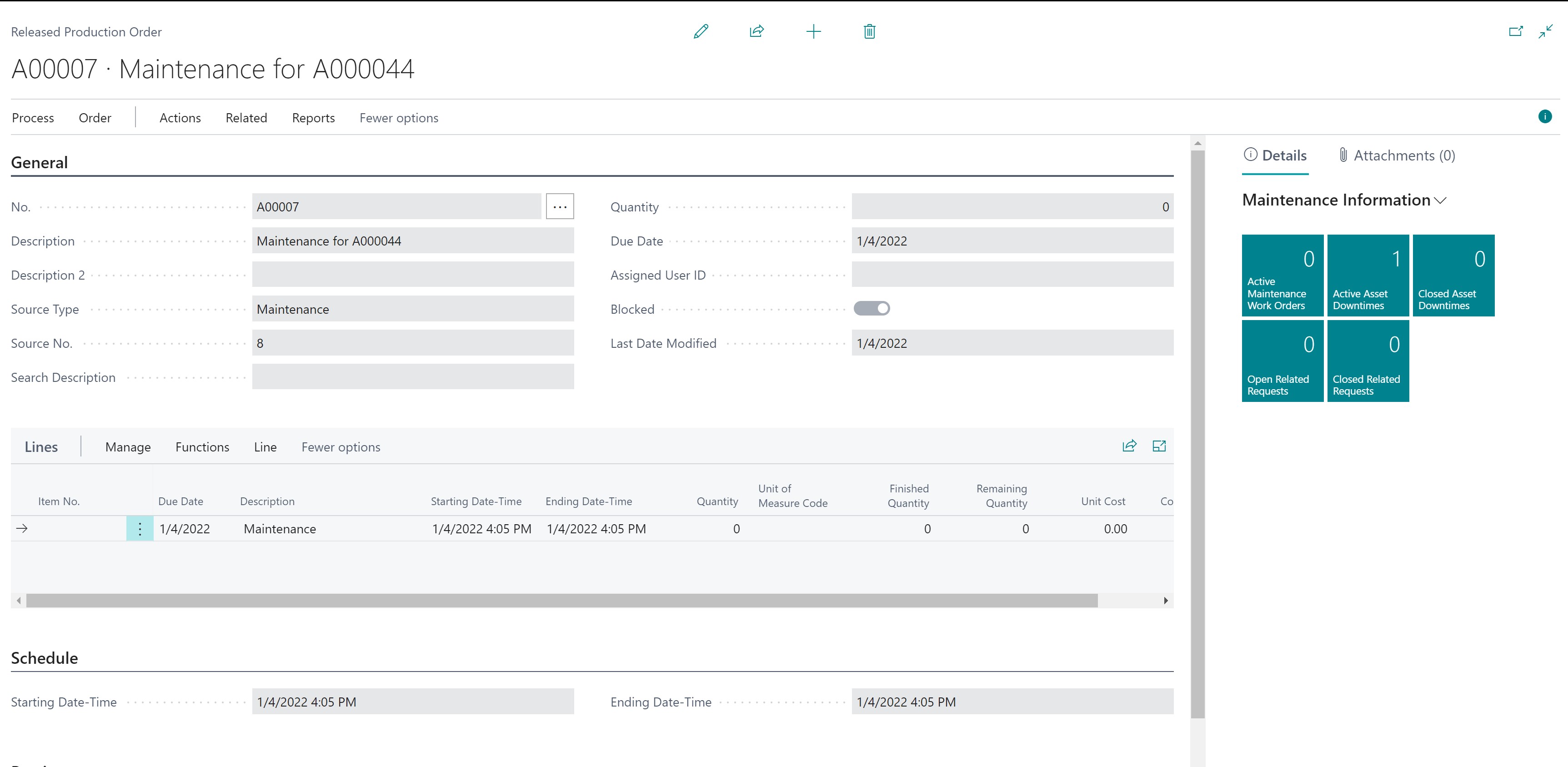 Reinvoice maintenance costs

In the bigger organizations with multiple legal entities, it is required to define which entity the asset belongs. Also, the maintenance services done by one legal entity need to be reinvoiced.

In Dynaway EAM for Business Central, it is now possible to create a sales invoice for the maintenance costs for another entity in just a few steps. The sales price can be defined in the price list or as markup from posted costs of inventory or resource usage. Additionally, it is possible to define if the work order plan or even a work order line is billable work or should be only a cost.