Digital Transformation might be considered as a trendy tech buzzword, yet it's an essential growth strategy for keeping organization up to speed with the most recent changes in innovation and technology.
While digital transformation might sound simple, adapting it can be a very complex and overwhelming process. There are many thing you need to consider in order to implement digital strategy. Taking into account each aspect of your business, connecting every component to achieve positive results.
Many think that digital transformation is about technological changes, however it's much more than that. Adapting new strategy means adapting new way of working internally and transformation of your organization as a whole. It's much more than just implementing new technologies but more about learning to adopt it in a right and efficient way...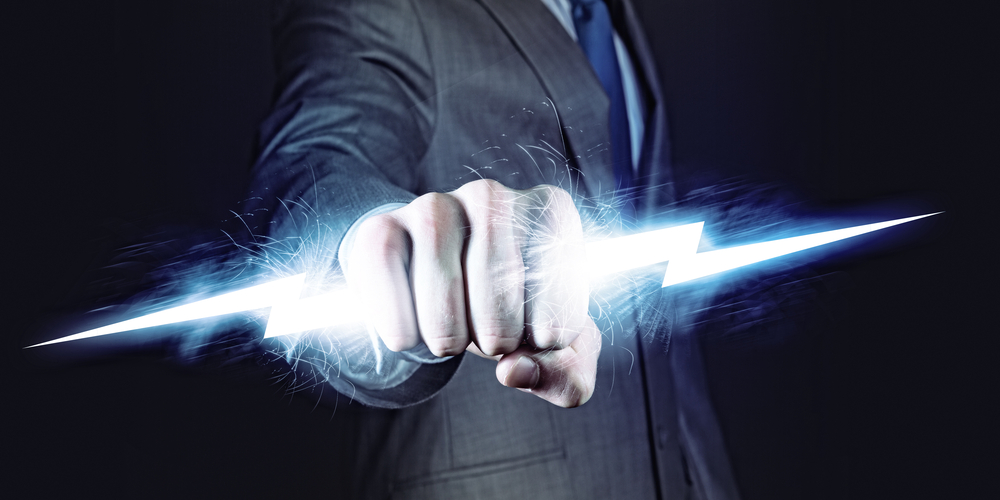 Below you can find articles that will help you to understand how Digital Transformation should be approached, what are the newest technologies related to that and what considerations you have to take into account before your Digital Transformation Journey.
Content:

Introduction
Blockchain is not only a tempting technology and a buzzword used within the financial field. It can also be a huge advantage for manufacturing, supply chain and distribution processes.
For manufacturers, it is very important to provide a high-quality experience to their end-consumer. This relies a lot on the different distributors, transportation providers and upstream providers. This is achieved by controlling the process of delivering the right asset, to the right place, in the right time and in the right manner. Too many factors must be right, however, while working with many intermediaries, the challenge is to trust and to be trusted. And this is where blockchain comes into play.
The blockchain is record-keeping technology behind Bitcoin. It is a decentralized concept, based on an algorithm, where the information is not stored on one entity but on many. Blockchain is a facilitator of peer to peer exchange and trust-based business relations.
Motivations for using Blockchain
Imagine if you can track a product from its very first occurrence until the purchase made by the end-consumer. Introducing such a method of delivering goods, especially food and pharmaceutical, will increase producers' and retailers' credibility and improve consumer's product experience and confidence. In this way, manufacturers, who are certificated will be able to track their products and do not let any fault products interrupt the supply-chain process.
With the transparency which Blockchain provides, it can trace the quality of the goods and their safety, which is critical within Food and Beverage, and Pharmaceutical industries.
This brings in the topic about the beneficial collaboration between Blockchain, IoT and other monitoring technologies, which will provide data about goods' condition at any given time.
Based on the opportunities which we have stated up till now, there is no doubt that this will lead to a smoother and legally lighter dispute resolution. This would happen literally for a fraction of time, and there will be no longer years long cases with unclear records and results.
This can be achieved with the so-called "smart contracts", which not only save time and transaction cost between the involved parties but automatically trigger compensations or fines if the agreed terms and conditions of the contract are not met.
Blockchain especially combined with IoT technology, can provide access to every party of the supply-chain which will, without any doubt, have a positive impact on the B2B relations, such as increased trust between the partners and bigger accountability. This leads to non-vertical, decentralized data-access.
Automation and full combability with ERP systems
Blockchain can be integrated into an existing ERP system and accelerate the process of ordering materials right after a certain level is below the order level. In other words, there will be no need for a person to follow up on the quantity of a particular material because this will be automatically ordered.
This would contribute to manufacturers and their asset and inventory management, especially if they use asset management software, such as Dynaway's EAM.
Introducing more secured, faster and trusted technologies contributes to a companies' digital transformation and their holistic approach to doing business efficiently with many stakeholders. As a Microsoft partner, Dynaway has always put emphasis on the opportunities which exist in order to offer our clients with the optimal solutions to help grow and naturalize their businesses.
For this purpose, you can read more about Blockchain opportunity which Microsoft Azure provides and check the full article about "How blockchain will transform the modern supply chain".
Conclusion
Blockchain technology aims to introduce new ways of cross-organization relations and, possibly, new business models. It will revolutionize the slow-paced, insecure and manual processes within manufacturing, which will open a new topic in future about decentralized manufacturing.
Digitalization does not have only business benefits but also transforms and improves the experience of companies' customers, suppliers, employees, and the different stakeholders.
Based on IDG's 2018 State of Digital Business Transformation , 89% of the enterprises have already considered adopting a digital-first business strategy. But how to initiate a digital change in your company, and what shall be taken into consideration when stepping into large-scale digital transition? Here are some of the considerations you should bear in mind when choosing the path of digitalization.
Digital Transformation – Considerations
1. Define your business goals.
To search for a solution, there should be a problem or a challenge to be solved. Before going into negotiations and meetings with potential software partners, you should define your business needs and objectives. If the business opens more product lines or the company experiences many downtimes during the production process, which leads to higher costs and delays, then you are on the right track. Making an analysis of the situation will help you see the bigger picture and find the right digital solution for your business.
2. Set "digital" into your company's mindset
Change starts with people. This means that when opting for a digital transition, this should be communicated in the right way to each business unit. Each employee has to be prepared for the pros and cons of the process and be informed that the digital journey will be a team effort.
This can be achieved with a coaching session with a consultant, representative of the company software provider, who is responsible for the smooth integration. At Dynaway we work closely with our clients and tailored customer care during and after a solution has been implemented.
Communicating change must be a mission of the company's management level, as well. The best team who can lead the change it is the one who makes the decision for it.
3. Research the possibilities
Digitalization it is a long-term investment which, depending on the scale of the business, may lead to high initial cost for the company. In terms of technical considerations, there are three main ways of integrating an enterprise system.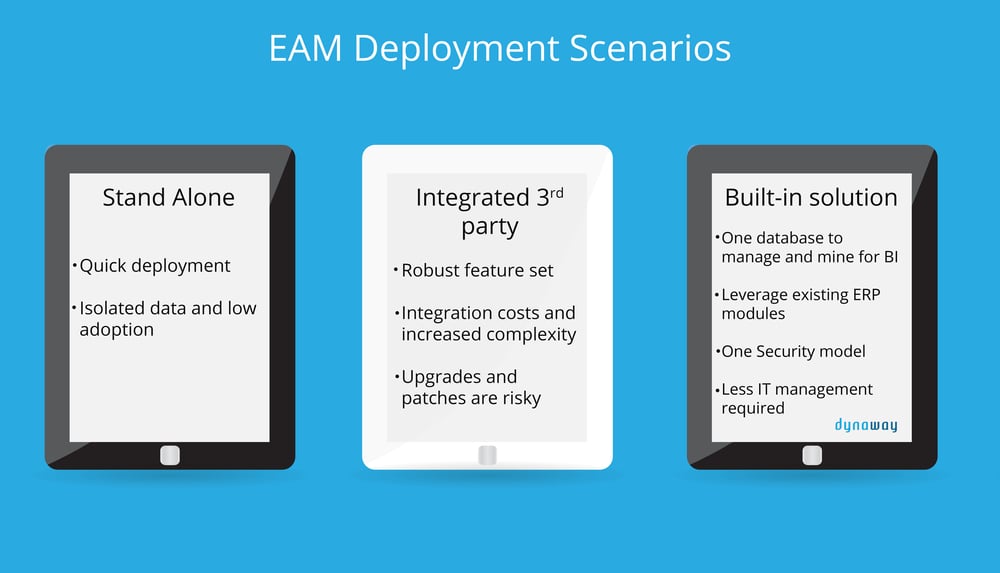 If you still feel like using the good old Microsoft Package and keep track of your processes via Excel, then you are using open source software. However, the available open source cannot provide tailored functions and features to your business, which can be quite a time consuming to set up, especially if your company has different business units and locations, each with various operations.
Third-party software is a programme made to operate on any operating systems but is not created by the provider of the operating system. In other words, they cannot replace fully the vendor software providers. Usually, third-party software is cheaper, however, depending on the company's business goals and performance it can turn out to be more expensive in a long-term period.
Integrated Software is software, consist of different modules, which keep all processes interconnected and within the same programme without the need of switching to another third-party software. Such software modules can be part of bigger enterprise software. The connection between the modules helps companies track, for example, inventory, work performance, spare parts, costs and take more precise decisions based on the reporting features of the software.
Dynaway's EAM is an example of an integrated software as part of Microsoft Dynamics 365 for Finance and Operations, which is an advanced module for managing and servicing many types of equipment in a company.
4. Be prepared for continuous improvements
Your company's digital journey does not end with an implemented and working enterprise software. There will be new horizons for your business which should not be neglected. Introducing digitalization does not only mean getting rid of the paperwork and the complicated performance analysis, but it opens the topic of business innovation. We, at Dynaway, has witnessed how our clients experience the transforming power of using our enterprise asset management module.
5. Data will be your eyes-opener
Nowadays, manufacturers take data-driven decisions to gain a competitive edge within the market they operate. Simply said, in order for a business to transform, data is needed, which is the key outcome of a successful digital transformation.
The data transition process from analogue to digital takes time but the long-term business advantage is inevitable. Done in the right way, information will be delivered across the different business units, such as HR, logistics, suppliers, asset management, sales and marketing, etc, which will lead to a more holistic approach to data-driven decisions in future.
Conclusion
Digitalization can be achieved by implementing end-to-end business transformation. This starts with a compelling vision and motivation for a change followed by smart ways of implementing and communicating it internally and externally.
In the era of Industry 4.0, where automation and data are the leaders within the process industry, digital transformation it is a must. It is not just an instalment of a piece of software, it is also a process of changing the organization's culture and fundamentals.
While manufacturing makes strides toward Industry 4.0, the process industry still lags. But the latest technological revolution can make tasks in the process industry more efficient. The heart of this revolution is data, which also lies at the core of the process industry. Rather than fearing the latest advances, companies should embrace them.
Industry 4.0 uses technology to connect parts of the process that once relied on human communications, enabling adopters to collect, analyze and use data instantly. This industrial revolution also encompasses automation and mixed reality. For example, Canadian companies invested an average of $250,000 to digitize a small to a medium manufacturing facility. This amount should be similar for process industries.
The automation could reduce the amount of downtime from broken machinery. Industry 4.0 technology predicts when equipment requires maintenance before it breaks down. Additionally, it's more flexible to change product production quickly, which is especially helpful in today's process industry. Personalized medicine and foods reduce overall volumes of production while increasing the number of products a company can churn out.
Linking employees with data
Though automation is a component of Industry 4.0, the process industry still requires humans. Employees use gathered data to make decisions on maintenance. Also, human workers' experience with the equipment generates the algorithms the software and sensors use to schedule maintenance and repairs before unplanned outages. Employees can access information virtually about equipment by a database of "digital twins," a term coined by Dr. Nico Zobel, a researcher with Fraunhofer IFF.
Employees can also safely learn to operate new equipment or learn new skills through virtual reality. Virtual reality also allows plants to verify operations before they open. BASF and Sinopec Engineering both used virtual 3D software to create an image of the plant operators could see before construction finished, which allowed them to make changes before installing any equipment.
What does enterprise asset management (EAM) have in common with running shoes? Both have remained relatively unchanged over the last few decades, but are poised to evolve rapidly thanks to the latest technology.
In the running world, smart shoes and related advances in fitness technology are transforming the running experience. Runners now have greater insights into their runs, such as real-time tips for correcting form and ongoing analysis of heartrate, average distance and pace, and more.
Just as technology is reshaping running, it is also transforming nearly every aspect of manufacturing, from business models to production methods. Enterprise asset management (EAM), a realm where older, manual processes and multiple disconnected systems are common, is a prime candidate for transformation.
As manufacturers enhance and unify their EAM approach, it's important to consider both existing and emerging technologies. A robust approach is one that not only incorporates technology available today, but also accounts for future evolution. With that in mind, let's examine four technologies that offer value in asset management scenarios—mobile, Internet of Things (IoT), machine learning, and mixed reality.
Mobile functionality
Gone are the days when employees must be at a station to determine the health and functionality of machines on the production line. Today, mobile devices and mobile-optimized EAM apps provide employees flexible access to the tools and insights they need, anytime and anywhere.
Through mobile devices, employees can view performance information, easily create work orders, and link service requests to specific locations or assets, making ad-hoc maintenance a simple task. In addition, equipping workers with mobile EAM tools supports increased responsiveness to changes happening in real time on the manufacturing floor.
Mobile EAM capabilities also empower younger workforce members with tools that make them more capable. Although they may not be as experienced as their predecessors, younger workers gain efficiency with data-based recommendations and alerts delivered on a mobile device they're already familiar with using.
IoT-enabled assets
IoT is a high-potential technology that, in tandem with a modern EAM system, can digitally transform manufacturers' processes. As an example, the combination of IoT with EAM supports automated, predictive maintenance scenarios, delivering efficiency gains and cost savings.
Often, maintenance is reactive and occurs after a failure that causes expensive unplanned downtime. IoT-enabled assets, however, generate ongoing, real-time data on their health and performance that can help prevent breakdowns. Analyzing this data reveals asset performance patterns, and these patterns support highly informed predictions about when an asset will need maintenance. If a maintenance need is predicted based on data coming in from an IoT-enabled asset, a work order can be automatically triggered in the EAM system, preventing an unplanned production stoppage.
Machine learning
When paired with asset management technology, machine learning enables manufacturers to gain an unprecedented level of insight into their operations. This insight provides manufacturers with the ability to implement intelligent maintenance recommendation systems. For example, a maintenance manager can ask the system if a part will need to be replaced after operating for 500 hours under varying workloads and stresses. Machine learning can intelligently answer that query, drawing on a deep understanding of performance data and multiple variables for that particular part at the company.
This technology also supports future performance goal and benchmark-setting, which in turn helps manufacturers understand how they are performing compared to industry averages (e.g. downtime). These kinds of insights are only possible when machine learning technology is integrated with an EAM system.
Mixed reality
Although full implementation in asset management scenarios is further out on the technology roadmap, mixed reality shows promise for supporting asset management processes. For example, specialized mixed reality headsets will make it easier to visualize asset maintenance procedures step-by-step, which enables less-experienced workers to execute more effectively. They will also help employees identify the right equipment for repairs, and will enable people in different locations to collaborate on a specific machine.
More and more we are hearing about the internet of things (IoT), but what does it actually mean? Basically, IoT is the connection between devices and to the internet. The idea of the IoT is so massive that it has been reffered to as the 4th industrial revolution or in other words, Industry 4.0.

Nowadays, we can control our home heating systems through our phones to set the right temperature in the house when we get home. Technicians and mechanincs are able to see equipment failures on in real time as the breakdown is happening...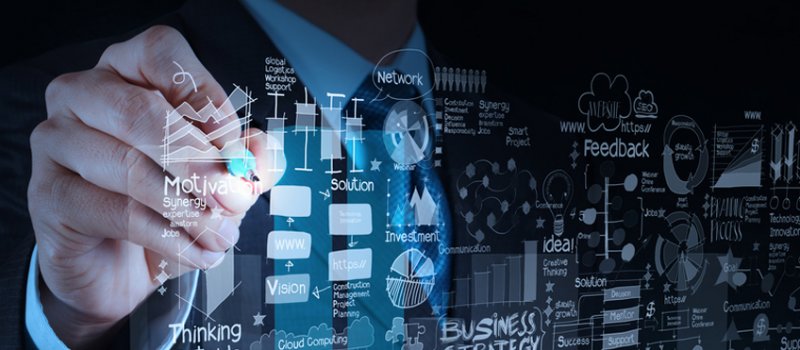 According to Gartner Inc., there will be close to 21 billion devices on the internet of things by 2020. This growth is largely due to the availability of faster and more reliable mobile networks, where no fixed line connection is needed.
In the near future, the IoT will be crucial for increasing efficiency and productivity in every aspect of business. IoT will lead to more efficient power and energy management at manufacturing facilities and plants by adjusting environment control systems automatically based on the data received from IoT devices to reduce energy consumption. The IoT can also enhance maintenance management processes through automation and analysis based on real time data.
What is IIoT? (Watch Short Video)
Below you can find six examples of how the IoT can improve maintenance management processes.
1. Predictive Maintenance
One of the biggest reasons to invest in IoT is to be able to manage your assets through predictive maintenance. Instead of performing calendar-based inspections and spare parts replacement, predictive maintenance allows you to monitor equipment and predicting failures. For example, notify you when a part is worn off and needs replacement, or the temperature in boiler has reached a specific point and might overheat soon. Sensors implemented in the equipment can check for conditions you have set up and trigger work orders when specific limits are breeched.
With predictive maintenance strategy in place, maintenance jobs are only performed when it is needed and required, leading to reducing costs of spare parts and labor costs.
2. Data analysis in real time
Machine-to-machine, or M2M, is a term that can be used to describe technology that enables other connected devices to exchange information and execute actions without the manual assistance of humans. The internet of things takes M2M even further by including additional element: data. Having access to all data from machinery in one network gives manufacturers the ability to accumulate and analyze the data and transform it to better predictive maintenance. Instead of waiting for a failure, manufacturers can accurately predict breakdown because IoT devices reports when operating conditions are out of specification. By identifying failure patterns and quickly recognizing issues, manufacturers are able to improve their production and significantly reduce downtime. That leads to increased customer satisfaction and less warranty claims.
3. Performance Metrics
By using IoT devices, key performance indicators (KPI's) like mean time between failures (MTBF) or mean time to repair (MTTR) can be calculated automatically by the system and send back to reporting dashboards. This then excludes the manual human work of capturing downtime and ensuring accuracy and availability of data.
4. Automatic repair recommendations
When equipment breaks down, failure data can be gathered from various different sources, accumulated and analyzed in real time within the cloud. Options for repairs can be done automatically by the system, even actions to take can be recommended to the technician if necessary. Failure data can be used to address the repair, including system operating conditions at the time of breakdown together with previous repair data from the Enterprise Asset management (EAM). Accordingly, the technician or mechanic will be given all the information he needs for more effective decision-making. Deploying EAM or Maintenance management software with an application programming interface (API) that integrates with IoT devices will be essential for ensuring accurate and usable information.
5. Inventory Management
Efficient inventory management can have a powerful impact on reducing equipment downtime and controlling maintenance budget. Connected stock that monitor inventory levels ensures the organization only has what is needed on their stocks. If the spare part level drops to specific level you have set up, with Integrated ERP and EAM system, you can notify procurement department automatically to order more. With predictive maintenance and data analysis, manufacturers are able to optimize spare parts stocks, freeing up needed capital and increasing accuracy of spare parts as well as maintenance budgets.
6. Remote Assets
When it comes to unplanned failure maintenance, the IoT enabled devices can make it easier and more efficient to maintain assets in remote locations. As it was mentioned before, IoT reduces unnecessary visits to remote locations where you need to inspect assets through predictive maintenance. For example connecting assets through IoT like wind farms or pumps would make assets generate work orders based on their condition. By using EAM and mobile solutions, technicians would get exact location of the object that needs maintenance, described problem and list of spare parts needed to fix the asset. That would extremely reduce time and costs associated with emergency repairs in Asset Intensive Industries.
Every industry can find value from IoT devices, but the best results are possible only if IoT seamlessly integrated with your other systems like ERP and EAM. The IoT can also be a game-changer for OEMs. It will redefine the business model as equipment vendors supplement their offerings with software and data analytics services. Hardware will ship with greater computing power, becoming more intelligent and more connected. Manufacturers who are adapting and implementing IoT technologies are enabled to create better value propositions and differentiate from their competitors because they can more efficiently monitor and analyze, improve reliability while reducing unnecessary maintenance costs. Leading to companies being able to reallocate their resources in more efficient ways.
Dynaway EAM is future ready solution that easily interoperate easily with IoT-enabled assets which allows you to better plan maintenance activities more effectively use data from corrective, preventive, and reactive maintenance activities. Dynaway EAM offline capable mobile solution enable maintenance teams to work anywhere, even in remote locations.
Easy to deploy:
You can choose between Dynaway specialists or a broad partner network for help with analysis, implementation, and setup of modules, import assets and asset structures directly from legacy systems and achieve ROI quickly.
Since Dynaway EAM is fully integrated with Microsoft Dynamics AX and D365, it allows you to leverage existing ERP modules and avoid duplicate data throughout your system. Manage business insights from one single database and reduce effort required behind IT and security management with streamlined system.
Don't forget to subscribe to receive monthly updates with the latest blog posts, industry news and insights, product updates and offers: