With the EAM module from Dynaway we give you the power to focus on what is at the heart of Enterprise Asset Management: Cost effective maintenance processes that continuously bring down equipment downtime.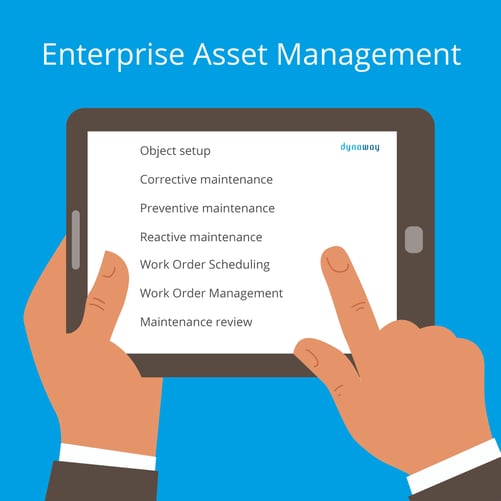 Corrective maintenance is carried out after failure detection and is aimed at restoring an asset to a condition in which it can perform its intended function. In the Dynaway EAM module, a variety of corrective work flows are supported:
The machine operator can identify a machine failure and make a downtime registration which automatically triggers a service request for the maintenance department.
The maintenance worker can identify a failure and immediately create a corrective work in which he can register time, material and actions taken.
A machine can by itself report a failure through its PLC interface.
Having structured registrations processes around corrective maintenance is key in a fact-based approach to continuously improving the maintenance processes.
Preventive Maintenance is supported through maintenance sequences, which can be calendar-based (date, time, day, …), counter-based (produced units, hours, miles,..) or condition-based.
Counters can be linked to Microsoft Dynamics® 365 resources and thereby be automatically updated from production with hours in use or manufactured units. They can also be updated manually using the Mobile Client as part of an inspection.
Preventive maintenance will be scheduled based on linear projections of the registered counter values.
With Maintenance Review you can track and follow work orders, objects or functional locations, cost control, object KPI, item forecast, capacity load, maintenance status, and maintenance budget.
Maintenance planning, execution, and analysis are all supported to assist you in continuously improving the maintenance processes and thereby reduce costs and production downtime.
You can find more information here.