It's now possible to get values from an IoT device into Dynaway EAM on Dynamics 365 for Operations. These values can be used for predictive and/or preventive maintenance in Dynaway EAM.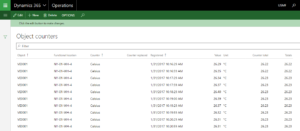 The integration between an IoT device and EAM is created by using standard Microsoft technologies:
Azure IoT hub
Azure stream analytics job
Azure service bus queue
Microsoft Flow
The data flow looks like this:

In Microsoft Flow a number of components are needed to extract the data coming from the Azure Service Bus queue but no custom coding is needed.