We would like to invite you to join us for the annual User Group Summit North America event taking place October 15-18, 2019 at the Gaylord Palms Resort in Orlando, Florida.
Hosted by Dynamic Communities, User Group Summit provides the opportunity to gain vital knowledge to maximize your software performance and further your job role, career, and product investment. And we are a proud Platinum Sponsor of this year's event!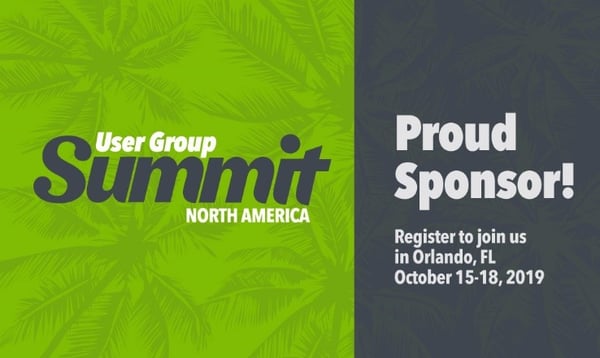 About the Event
User Group Summit is the can't-miss annual conference for users and partners of the Microsoft Business Applications platform – featuring education on all versions of Dynamics 365, AX, CRM, NAV, GP, and the Power Platform (Power BI, PowerApps, Flow). With credible peer-to-peer knowledge exchange at its core, Summit provides focused learning and networking as users gain instrumental solutions for their everyday system challenges and larger organizational goals.
Top Reasons to Attend
Your learning, your way | Customize your learning to your role with hundreds of hands-on expert-led sessions, demos, and an information-packed keynote.
Answers right from the source |Got questions? Get in-depth, unbiased answers from those in the know: Microsoft product experts, partners, and your Microsoft Business Applications peers.
Focus on today and what's ahead | Focus on the technology you're using right now and preview upcoming enhancements to get maximum value from your solution.
How to Engage with Us Onsite
During the event, you can find our team at Booth #731;
On Wednesday, October 16th, 3.15 pm - 4.15 pm you can join our session with Thomas Krogh, Jesse Zdonek and others!
Want to book a meeting during the Summit? Book a time in our calendar!
Save on Registration
As an added bonus, save an additional 10% on your registration when you use the following coupon code, exclusive to Dynaway customers. Request for a code: egs@dynaway.com
We hope you will join us for this premier conference!